Bernard Hopkins is living proof that age is just a number. Known as "the Executioner," he became the oldest fighter to win a major world championship when he defeated Jean Pascal in May for the WBC light heavyweight title.
Don't let all the brash trash-talking that he does fool you. Hopkins has been cashing in on the dozens of checks his mouth has written during his 20-plus years as a professional boxer.
Chad "Bad" Dawson is the latest 20-something with hopes of retiring the 46-year-old Hopkins once and for all on Oct. 15 at the Staples Center in Los Angeles. A victory over Dawson would make Hopkins the favorite to win "Fighter of the Year" honors for the first time since 2001.  
The Root spoke to Hopkins prior to his HBO pay-per-view fight about his thoughts on the much-discussed ending of the fight between Floyd Mayweather and Victor Ortiz, his controversial comments about NFL quarterback Donovan McNabb and training at 46.
The Root: Does training camp get harder or easier at your age? 
Bernard Hopkins: Believe it or not, I'm still having fun. I'm having more fun now, and it has a lot do with the fact that I'm 46 and I'm being reminded of it [by] regular people on the streets. Everywhere I go, people are telling me their age and what I should or shouldn't be doing.
G/O Media may get a commission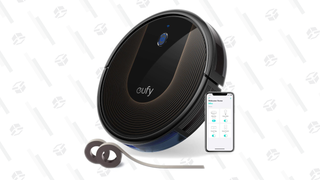 48% Off
Eufy BoostIQ RoboVac
I'm having fun explaining health awareness. What I've always preached and [what] most of [the media] have always written about me is, 'Say what you want about Bernard Hopkins, but he's always in shape.'
TR: If you were in Floyd Mayweather's shoes, would you have done the same thing against Victor Ortiz during their fight last month?
BH: Yes. I think Floyd was pretty nice. I like Victor Ortiz, and [we're both part of] Golden Boy Promotions. But I call an ace an ace and a spade a spade. What I saw was an out-and-out foul with the head [from Ortiz] … I hear more about what Floyd did that ended the fight than what was curated for the actions to be done.
When you're in that ring, you protect yourself at all times. If you know that you're messing with a known ho, if you don't protect yourself at all times, the consequences could be critical. When you're in that ring, you're at war. And I don't think this generation understands that when we are in that ring, I don't want to be your friend. I don't like you, your family, nobody. This is war.
TR: Should HBO fire commentator Larry Merchant over his televised argument with Mayweather?
BH: No. After I beat Chad Dawson, I want to challenge Larry Merchant to a pay-per-view fight. I want to fight Larry. Larry Merchant is the hottest guy to fight right now, not Manny Pacquiao. That [interview] took a lot of balls. Larry Merchant is the guy to beat right now in boxing. I thought it was funny, man. I loved it. I thought the interview was better than the damn fight.
TR: Have you noticed a different reaction from the general public following your historic win over Jean Pascal? Are people starting to appreciate you more?
BH: I find that when you do something extraordinary in your 40s, as physical as the sport I represent is, I think people really realize that this isn't normal.
TR: Prior to your Pascal fight, you unleashed a verbal assault against Donovan McNabb. What do you have in store regarding McNabb for this fight?
BH: I don't want to make it seem like it's black-on-black crime. I said what I said, and most people debated about it. I got people to talk about it. It is what it is, and you deal with it. It's nothing new. It's been said [for] many, many years and said through many people that came before me.
What I can say is, come Oct. 15, we will be talking about boxing. It won't be football. If I want to talk about football and I want to talk about a soldier that got heart, I would talk about Michael Vick. But [by] the same token, this is about boxing and what I'm going to do to Chad Dawson.
TR: How much would winning "Fighter of the Year" mean to you? 
BH: It means history. I don't think a fighter of my age or older has ever won "Fighter of the Year." This helps with my work and my achievements. This helps with what I'm trying to push, which is that 40 isn't a death sentence. We're in a different time and world right now.
Jay-Z came out with "40 is the new 30." I don't say that's necessarily for everybody, because there are some people that are 30 that feel like they're 60 because of what they've done in their 20s — how they abused themselves and didn't take care of themselves. They didn't exercise. It all depends on the individual. 
TR: Will your competitive nature ever allow you to retire? 
BH: We all have to retire. We all have to die. I've been prepared to do something else and have been doing something else, and that's business. I have the mouthpiece to do it. I got the swagger to do it, and I got the sense to do it.
Marcus Vanderberg is co-editor of FishbowlLA and an online producer for BET.com.