Republican presidential candidate Ben Carson says that he pulled his proposed tax plan straight out of the Bible, Raw Story reports. 
It's "tithing," the former neurosurgeon explained to Fox News host Chris Wallace Sunday, describing his plan as one in which everyone would pay according to his or her ability.
"You make $10 billion a year, you pay a billion. You make $10 a year, you pay one. You get the same rates. That's pretty darn fair if you ask me," Carson argued.
Carson, the only African-American candidate thus far to have thrown his hat into the ring for the 2016 presidential election, argued that low-income people want to pay their fair share in taxes, too, and that suggesting otherwise is selling them short.
"Now, some people say poor people can't afford to pay that dollar. That's very condescending," Carson said. "I can tell you that poor people have pride, too. And they don't want to be just taken care of."
G/O Media may get a commission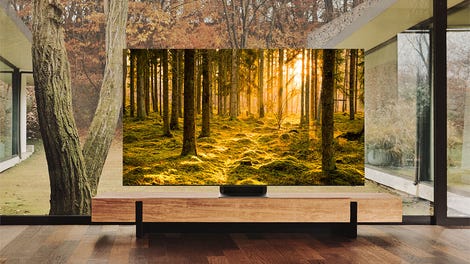 Up to 40% off
Samsung Smart TVs
But Wallace begged to differ and criticized Carson's tax plan as doing too much for the rich and too little for low- and middle-class families.   
"Doctor, here is the problem with the flat tax in the real world," Wallace said. "According to the Tax Policy Center, to raise the same amount of revenue we do now, the tax rate would have to be in the low- to mid-20 percent range. Low- and middle-income families would get a big tax hike, while wealthy families would actually get a big tax cut."
Carson refuted that analysis, saying that his team of economists said if loopholes were closed, his plan wouldn't shake out that way.
Wallace responded that, according to independent economists, any way you slice it, "the people who make out like bandits in this are the wealthy."
Read more at Raw Story.