Slaver Is Omitted, His Story "Just Wasn't as Interesting"
Actor Ben Affleck asked Henry Louis Gates Jr. to edit out the fact that one of his ancestors owned slaves from Gates' PBS series "Finding Your Roots," according to messages in the massive November hacking of emails at Sony's movie studio.
The information did not appear in the series. Gates told Journal-isms on Saturday that "Ben [Affleck's] ancestor's story just wasn't as interesting as the other stories about slave-owners that we did use."
Affleck's request was reported Friday by Daniel Bates in the online dailymail.co.uk and Mara Siegler in the Page Six feature of the New York Post and soon spread around the Web. 
On Thursday, WikiLeaks published a database of all data leaked from Sony Pictures in last year's hack, comprising 173,132 emails and 30,287 separate documents, as Russell Brandom reported for theverge.com.
"The Sony emails show that the makers of Finding Your Roots, including Emmy Award-winning host and Harvard professor Henry Louis Gates Jr, engaged in a deliberate cover-up despite knowing that it was a 'violation' of PBS rules, as Gates puts it," Bates wrote for the Daily Mail.
G/O Media may get a commission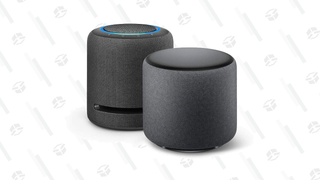 25% off - Prime Exclusive
Echo Studio + Echo Sub Bundle
Siegler's Page Six story added, "In a hacked Sony email from July 22, 2014, now available on WikiLeaks, the show's host, Henry Louis Gates Jr., writes to Sony USA chief Michael Lynton asking for advice: 'One of our guests has asked us to edit out something about one of his ancestors [—] the fact that he owned slaves. Now, four or five of our guests this season descend from slave owners, including Ken Burns. We've never had anyone ever try to censor or edit what we found. He's a megastar. What do we do?'
"Lynton's advice was to take Affleck's family secret out of the show, as long as nobody would find out. The Sony chairman and CEO writes, 'On the doc the big question is who knows that the material is in the doc and is being taken out. I would take it out if no one knows, but if it gets out that you are editing the material based on this kind of sensitivity then it gets tricky.' . . ."
PBS and Gates issued statements defending their decision. "It is clear from the exchange how seriously Professor Gates takes editorial integrity," the PBS statement began. "He has told us that after reviewing approximately ten hours of footage for the episode, he and his producers made an independent editorial judgment to choose the most compelling narrative. The range and depth of the stories on Finding Your Roots speak for themselves."
Gates said in an email to Journal-isms on Saturday, "You've seen both PBS's statement and mine, but I would like to add something for your story. For any guest, we always find far more stories about ancestors on their family trees than we ever possibly could use.
"In last year's season of 'Finding Your Roots,' we happened to find several stories about ancestors who owned slaves before the Civil War — far too many for us to use them all, of course. Ben [Affleck's] ancestor's story just wasn't as interesting as the other stories about slave-owners that we did use, such as those about the families of Ken Burns and Anderson Cooper.
"Finding slave-owning ancestors is very common in our series. You can see why when you remember, for example, that 37% of the families in Georgia, where Ben's ancestor lived, owned slaves in 1860, the year before the Civil War broke out.
"So just imagine how many descendants of those people are walking around today. Instead, we decided to go with the story we used about his fascinating ancestor who became on occultist following the Civil War. This guy's story was totally unusual: we had never discovered someone like him before. It made for a much stronger story arc."
Page Six said a rep for Affleck didn't immediately comment. For the Oct. 14, 2014, episode of "Finding Your Roots," the show's website says, "Ben Affleck learns of his 3rd Great-Grandfather, Almon French, an occult enthusiast who harnessed his spookily mystic inclinations to help him comfort the bereaved. . . ."
Gates is the Alphonse Fletcher University Professor and director of the Hutchins Center for African and African American Research at Harvard University, and is co-founder of The Root, which carries "Journal-isms."
Russell Brandom, theverge.com: Wikileaks has published the complete Sony leaks in a searchable database

Editorial, Daily News, New York: New York's lasting shame: Marking the site of a slave market in lower Manhattan is a fitting commemoration
Michael Getler, PBS: Bad Decision, Weak Response
Jerry Large, Seattle Times: More sunlight shines on how slavery shaped U.S.

Leonard Pitts Jr., Miami Herald: After 150 years, Dixie is still a place apart (April 3)  
Airing Car Chase, Producers Had Little Time to Cut Away
"In Houston on Wednesday, television stations were covering what has become a familiar scene: Police chasing a vehicle through the streets. Since the days of O.J. Simpson's white Bronco and before, the ability of large-market stations to put helicopters in the air and follow along has made the images commonplace," the Radio Television Digital News Association wrote on Wednesday.
"Viewers have become accustomed to seeing police use 'stop sticks' to deflate a car's tires, use police cars to bump into suspect vehicles to put them in a spin to stop them, suspects jumping out of cars to run away, and police wrestling suspects to the ground to handcuff them and take them into custody.
"What was different in Houston was the end of the chase. This time, the suspect did not surrender. After striking another car and coming to a stop, the suspect got out of his car, and when he appeared to reach for something in the car, he was fatally shot by police, and the shooting was broadcast live.
"The last sequence of events happened quickly. KTRK-TV reports it was only a matter of seconds between the time the suspect jumped out of the car and when shots were fired, which gave producers in the control rooms of Houston's TV stations little time to make a decision.
"Instances of fatal shootings on live television are rare but not unheard of. Several years ago in Los Angeles, a man took his own life with a gun while live cameras captured the scene.
"Bob Long was managing editor at KNBC-TV at the time. When the man set his car on fire and picked up a shotgun, it became clear what would probably happen next, and Long ordered the helicopter's camera operator to pull back to a very wide shot.
"Long is well known for his opposition to carrying car chases live, saying the spectacle does nothing for a station's ratings, offers no public service and disrupts viewers from seeing other important news of the day. He says he'd prefer that stations didn't broadcast chases, but if they do, he recommends empowering every producer to pull back wide or cut away to an anchor when guns are raised.
" 'If you've been in the news business for any length of time, you know how it's going to end,' Long said. 'If you go wide, you reduce the chance of showing viewers a terrible situation. Or better still, if you cut back to the anchor, you can still record what the [helicopter] is seeing offline, and allow senior news managers the chance to edit any video before it's broadcast.'
"RTDNA offers guidelines to aid stations faced with these kinds of situations. It's important to consider them ahead of time and establish agreement on a plan every member of the team can follow on short notice. During breaking news situations, anyone from the news director or executive producer, to a line producer working alone on an early morning or a weekend might have to make the call. . . ."
Al Tompkins, Poynter Institute: Guidelines for 'Taking it Live' (March 2, 2011)

Tim Wetzel and Adam Bennett, KHOU-TV, Houston: Suspect killed after dramatic police chase in NE Harris County
Mother Jones Puts Gun-Violence Cost at $229 Billion a Year
"Just how much does gun violence cost America — in dollars and cents?" asks a news release from Mother Jones.
"The answer is surprisingly hard to find, thanks in part to the fact that the gun lobby has for years lobbied to block this kind of research. But now, a groundbreaking Mother Jones investigation provides insight into the staggering price tag: At least $229 billion each year, more than what we spend on the obesity epidemic and close to the entire price tag of Medicaid.
"The investigation, based on six months of gathering and analyzing data in collaboration with public health economist Ted Miller of the Pacific Institute for Research and Evaluation, finds that the price of a single homicide is, on average, half a million dollars — 87 percent of it falling on taxpayers. Guns kill 33,000 Americans each year and each of those deaths [burdens] families and our society with an average of $6 million in total costs. This in-depth analysis breaks down direct and indirect costs, documents the harrowing personal and financial toll for eight individual gunshot survivors, and tallies the data on everything from suicides to state costs per capita to hospitalization and prison costs resulting.
"All part of this special investigation: the staggering costs of gun violence in 90 seconds; 16 charts that break down the $229 billion; 8 gunshot survivors detail the human cost of guns; plus a video profile of survivor Jennifer Longdon who was gunned down in a Phoenix parking lot 10 years ago. . . ."
Asked whether the series examines the racial dimension, Mark Follman, senior editor at Mother Jones and lead writer for the investigation, noted the statistics in the accompanying chart and added in an email Friday, "We also have another feature coming soon with this package — an in-depth article and photo essay — that goes much more in-depth in this regard. It's part of the gun violence cover package in our May/June print issue, which will be available to subscribers and on newsstands in the next couple of weeks, and will be published online soon thereafter."
St. Louis Paper Wins Access to Records of Secretive Courts
"The secrecy of St. Louis County municipal courts was lifted slightly Friday by a state committee," Alex Stuckey reported Friday for the St. Louis Post-Dispatch.
"The State Judicial Records Committee voted unanimously to order municipal courts to turn over records requested by the Post-Dispatch, including court dockets and citations. The courts have until May 15 to do so. . . ."
In a Post-Dispatch story headlined, "Municipal courts operate in secret and work hard to keep it that way," Jennifer Mann and Stephen Deere wrote March 15, "Because court officials will not release information about cases that have been dismissed, all of the ticket-fixing that was cited in a recent Department of Justice report — involving Ferguson's mayor, judge, court clerk, police chief, collector of revenue and more, both in that city's court and others — would not have been known if civil rights investigators hadn't been able to pore through the trove of emails in which the deals were made.
"Nor would Ferguson Prosecutor Stephanie Karr's practice of dismissing all red-light camera tickets for cases with attorneys (unless 'the attorney goes off on all of the constitutional stuff,' in which case she would make them come to court, argue and pay a fine, according to an August 2012 email cited in the report). . . ."
Bystander Now Charging $10,000 for Video of Fatal Shooting
"The video of a North Charleston police officer shooting an unarmed man in the back will now cost news outlets that want to run it $10,000, according to a publicist representing the man who shot it," Frances Robles reported Thursday for the New York Times.
"Cease-and-desist letters went out this week to news outlets around the world from Markson Sparks, a publicity and celebrity management company based in Sydney, Australia.
"The video, taken April 4, showed a North Charleston police officer, Michael T. Slager, shooting a man who ran from him after a traffic stop. A bystander, Feidin Santana, took the video and then turned it over to the family of the man who was killed, Walter L. Scott.
"The officer was charged with murder and remains jailed. The video, viewed more than one million times on YouTube alone, quickly came to represent the excessive use of force by the police.
"The announcement about the fee seemed to come as a surprise to Mr. Santana. . . ."
Wayne Bennett, the Field Negro: Sorry is the easiest word to say.

George E. Curry, National Newspaper Publishers Association: Controversy Over Videotaping Cops

Editorial, St. Louis Post-Dispatch: Too many black men sent to death by white juries (April 9)

Manny Fernandez, New York Times: After Walter Scott Shooting, Scrutiny Turns to 2nd Officer

Astrid Galvan, Associated Press: Arizona police officer who hit suspect with cruiser has use-of-force history

Rick Horowitz, YouTube: Now We Watch the Cops

Sheryl Huggins Salomon, NewsOne: Jordan Davis' Dad: Walter Scott's Kin Should Brace For Trial That Will "Victimize The Victim"

Joaquin Sapien, ProPublica: Racist Posts on NY Cop Blog Raise Ire at Time of Tension

Tulsa World: Tulsa County reserve deputy apologizes to Eric Harris' family on NBC's 'Today' show

Ekow N. Yankah, the New Yorker: Seeing Walter Scott
Jorge Ramos Makes Time's "Most Influential" in the World
"Time is out with its 100 list of the most influential people in the world," Chris Ariens wrote Thursday for TVNewser. "As in years past, there are multiple covers, 5 in fact. And this year, Univision and Fusion anchor Jorge Ramos graces one of them.
"CNN's Christiane Amanpour writes about Ramos's resoluteness: he 'wrangles with President Obama and House Speaker John Boehner; he swims the Rio Grande; he says he asks every question as if it's his last, determined to get an answer or go down trying. What happened to immigration reform? He knows he has a voice and is not afraid to use it. He shouts from every rooftop that Hispanic rights are human rights.'
"Ramos is the only TV news journalist to make the cut, but other media makers are also on the list, including Bob Iger, Lorne Michaels, and John Oliver. . . ."
A news release from Fusion adds, "He has received eight Emmy Awards for his work, including his coverage of five wars and many of the most important news stories of the last two decades, including the fall of the Berlin Wall, the disintegration of the former Soviet Union, the 9/11 terrorist attacks, and Hurricane Katrina. Ramos is the author of eleven books and bestsellers and writes a weekly column for more than 40 newspapers in the United States and Latin America distributed by The New York Times Syndicate. . . ."
Time's list also includes Chinese journalist Chai Jing. Her "2015 documentary on pollution, Under the Dome, is one of the most important pieces of environmental awareness building ever in China," Ma Jun, a Chinese environmentalist and journalist, wrote in Time.
Adrian Lee, Maclean's, Canada: Newsmaker of the day: Chai Jing, the Chinese advocate who could (March 2)

Cristina Lopez, Media Matters for America: Univision's Jorge Ramos Joins Hannity In Misrepresenting The Latino Vote
Arise, International Black Network, in Critical Condition
Arise News, which launched in February 2013 "set to rival existing giants in the global market" and "broadcasting from its main News Centres in London, New York, Johannesburg and Lagos," as Nigeria's Vanguard newspaper put it then, is in "critical" condition, a former employee told Journal-isms.
Most of the better-known black journalists who joined the operation — Lyne Pitts, Gary Anthony Ramsay, James Blue, Jeff Koinange — have left after enduring periods of bounced checks and missed paydays. Among the latest to exit are Ramsay and Eugenia Harvey, the director of programming who worked in the New York bureau.
The chairman and editor-in-chief of Arise is media mogul Nduka Obaigbena of Nigeria, owner and publisher of a fashion and culture magazine also named ARISE, and publisher of several other titles including one of Nigeria's daily newspapers, THISDAY.
Arise did not respond to an emailed request for comment, but Harvey told Journal-isms by telephone on Friday that her last day was March 20 and that she had her going-away party in New York on Thursday.
"Arise was a magical place," she said. "The people who have worked here are wonderful and they sacrificed a lot," and they are responsible for keeping the bureau going. As for Obaigbena, "I give him mad props to have a vision like this." The creative atmosphere was "unfetttered, race wasn't an issue" since the operation was predominantly black.
But, Harvey said, she had to buy water and paper out of her personal funds. "I was also buying bus passes for people. They would say, 'I'm paying to come here.' I would say, 'What if I bought you bus passes?' They came in. It made a difference."
The subscription-only NewsBlues site quoted from an email sent last month that said Arise has encountered "headwinds in respect to [money] transfers out of Nigeria as the foreign exchange market has become officially illiquid ahead of elections. Monies are already in the banking system awaiting international remittance. And the banks have assured us this will be sorted within 2 weeks." It apparently was not sorted out then.
The black-oriented U.S. network Soul of the South, later known as SSN-TV, announced a partnership with Arise in October (video), but SSN-TV itself is now in financial trouble.
Among the former employees, Pitts, who headed the U.S. news operation, became managing editor of The Root in September 2013, and Blue, who was Washington bureau chief, joined the "PBS NewsHour" in February as senior content and special projects producer.
Pitts told Journal-isms by email, "I believed in the goals of Arise, to connect the black diaspora around the globe with news and information. It was a personal disappointment that I could not see that dream realized."
A Glimpse of Obama When He Spoke Candidly About Race
Barack Obama has rarely spoken so candidly about race as when he was a first-time author promoting his "Dreams From My Father: A Story of Race and Inheritance," at the Cambridge, Mass., Public Library on Sept. 20, 1995 (video).
Obama was a Harvard Law School student who had worked as a community organizer in Chicago. He was optimistic about America but believed that "Americans don't like to sacrifice . . . Our whole politics is geared toward not wanting to sacrifice and wanting to do everything on the cheap." However, he said, "solving racial problems at this stage has very much to do with economics and class and dealing with entire generations of segments of society that need help. And that's going to cost some money. . . ."
He also quoted his wife, Michelle, agreeing that "black folks are the most forgiving people, because they've had the most practice."
Obama, who is biracial, said he understood the impulse to check "multicultural" on census forms but disagreed with the strategy. "So now we have 'coloreds' in America," he said, referring to the South African mixed-race racial category that existed under apartheid. When he couldn't catch a cab in New York, Obama said, he couldn't hold up a sign and say, "I'm multicultural."
The future president called his job as a civil rights lawyer hard work because "Reagan and Bush appointed judges that are not sympathetic to civil rights laws, and one of the things I always try to emphasize is there is so much debate about affirmative action and very little talk about enforcement of anti-discrimination laws."
He gave the example of a case he was handling, in which the manager, who later became CEO of a Fortune 500 company, referred to an employee using the N-word. "The conservatives have been very effective in using the monicker 'politically correct' to sort of beat back the progress we've made in terms of decency and civility," Obama said.
The talk was recorded by 22-CityView, the cable system in Cambridge, and recently surfaced on social media.
Jim Kuhnhenn, Associated Press: Peevish or loaded for bear— Obama getting tough on critics
Lakota Columnist Says Residents Glad for Unity Visit
Karin Eagle, a columnist for the Lakota Country Times on the Pine Ridge Indian Reservation in South Dakota, told readers this week that she has seen "a huge response"   from both near and far" to the planned May 2 visit by Unity: Journalists for Diversity.
"Okay, so now we have the skills and support coming to us, hand delivered," Eagle wrote.
"What are we going to do with it? We are going to learn such things as promoting our own businesses and programs and organizations through social media and mainstream media; we are going to learn how to initiate investigative reporting so we can start to uncover some of the corruption on the various levels we have identified it; we are going to learn how to access vital information that despite anyone's attempts to keep from us, we are entitled to.
"The kids are going to benefit from the artistic stylings of not one but two amazing cartoonists who are known for using their art to speak volumes about current issues.
"There will be so much more to be won from learning how to talk about our own stories and to share them with [whomever] we choose to. We can never tell all of the stories because every single person has their own unique perspective of many different situations, and every single person can and usually does have perspectives that vary wildly based on what they have seen or heard.
"We have an infinite number of stories to tell and now we are going to have the support and encouragement from some of the greatest minds in Indian Country, people willing to lay it all out and support our storytelling; what . . . will we do with this gift? . . ."
Critic Says Late-Night Needs Someone "Unsafe" Like Noah
In a nearly 4,000-word rumination on the biracial South African comedian chosen to succeed Jon Stewart on Comedy Central's the "Daily Show," critic Wesley Morris concluded Friday for Grantland that Trevor Noah deserves a chance.
"Understanding the explosion of outrage around the announcement of Trevor Noah as the new 'Daily Show' host requires looking at everything from the state of political satire to the Brian Williams mess to the racial politics of South African popular culture," read the headline on Morris' essay.
"In other words: It gets really complicated, really quickly."
Within 24 hours of the announcement of Noah's appointment, he was quickly criticized for old tweets that were called misogynist, tasteless, anti-African American and anti-Semitic. Noah replied, "To reduce my views to a handful of jokes that didn't land is not a true reflection of my character, nor my evolution as a comedian."
Morris, a black journalist who won the 2012 Pulitzer Prize for criticism while at the Boston Globe, wrote, "American racial comedy requires some firsthand experience that also eludes him." His 2013 stand-up special, "African American," "is almost 70 minutes of condescension and backhanded compliments."
Still, Morris writes, Noah deserves a chance.
Referring to comedian and actor Patton Oswalt, Morris concludes, "The Oswalts of the world are arguing that this is a terrible time to be a Trevor Noah stepping in for a Jon Stewart. Just do lip-syncing contests! Otherwise they'll flay you!
"But this could also be the right time for a Noah. Things are upside down. They have been for years. At any moment Brian Williams could have hosted The Daily Show and Jon Stewart could have anchored NBC's Nightly News, and it would have seemed only loosely surreal. Whoever Noah is — whoever, on The Daily Show, he turns out to be — it's likely he'll be what late-night comedy desperately needs: unsafe."
Tim Baysinger, Broadcasting & Cable: Larry Wilmore on Trevor Noah Criticism: People Don't Know Him Yet (April 10)

Wayne Bennett, the Field Negro: Shared dreams.

Heidi W. Durrow, HuffPost BlackVoices: Trevor Noah Taking the Tragic Out of Mulatto One Joke at a Time (April 2)

Editorial, Pittsburgh Post-Gazette: Late turnover: Gambling on Trevor Noah at 'The Daily Show' (April 4)

Douglas Foster, the Atlantic: Trevor Noah's World: What makes The Daily Show's new host unique — according to South African comics (April 5)

Richard Horgan, FishbowlNY: Some Wise Words from Jim Norton (April 2)

Norimitsu Onishi and Dave Itzkoff, New York Times: Trevor Noah Sees Childhood Under Apartheid as License to Speak His Mind (April 2)

Erik Wemple, Washington Post: Jon Stewart sticks up for successor Trevor Noah (April 7)

Jason Zinoman, New York Times: 'Daily Show' Successor Trevor Noah Finds Himself Catching Criticism, Not Dealing It Out (April 9)
Dino Chiecchi, recently named managing editor of presentation for the El Paso Times, was elected president of the Texas Associated Press Managing Editors, the Times reported on March 29. Chiecchi was recruiter and administrative editor of the San Antonio Express-News and a former president of the National Association of Hispanic Journalists. His Express-News position was eliminated in February budget cuts.

At Baylor University, "There are already several departments that are pushing for more diverse students and faculty," the Baylor Lariat editorialized on Wednesday. "For example, the journalism, public relations & new media department has celebrated its diversity efforts several times over the past school year. In addition, it has set the example for other departments to follow suit. The department has a journalism diversity committee led by Dr. Mia Moody-Ramirez. In the fall, the department became the first to adopt a diversity statement. It states, 'The Baylor Department of Journalism, PR and New Media is committed to a policy of inclusiveness, understanding and acceptance regardless of race, ethnicity, religion, disability, sexual orientation, gender and age.' . . ."

Deesha Dyer, promoted Thursday to special assistant to the president and social secretary, has been a contributing writer for B.Informed Magazine and the Web site phillyhiphop.com in Philadelphia. She was deputy director and deputy social secretary. "By choosing Ms. Dyer, the White House is drawing from a group of people who have been working for the Obamas since early in the administration," Jada F. Smith wrote for the New York Times.

"writer @durgapolashi & i want to make sure we never hear 'i don't know any writers of color' ever again. here's a start: https://docs.google.com/forms/d/1vbsUChZw485IhGBe2Ws-6ms8ZHmzGvoT-tYQWiy1ylI/viewform …," Jazmine Hughes tweeted Friday, referring to fellow writer Durga Chew-Bose. The link is to a registry for writers of color to add their names.

"The Internal Revenue Service has placed a tax lien on Melissa Harris-Perry and her husband, James Perry, for about $70,000 in delinquent taxes, according to a notice filed in Forsyth County Hall of Justice earlier this month," Michael Hewlett reported Wednesday for the Winston-Salem (N.C.) Journal. "Harris-Perry is a well-known host of an MSNBC talk show and a professor at Wake Forest University. The IRS filed the notice April 6. In an email Wednesday, Harris-Perry said she was unaware of the tax lien but knew about the debt. . . ."
"Robin Robinson, who was a star news anchor on Chicago television for three decades, is about to turn up on the city's top-rated all-news radio station," Robert Feder reported Thursday for his Chicago media blog. "The former principal news anchor at Fox-owned WFLD-Channel 32 began training this week as a part-time and fill-in anchor at CBS Radio WBBM AM 780 and WCFS FM 105.9. Julie Mann, managing editor of WBBM Newsradio, welcomed Robinson in a memo to the staff Thursday. . . ."

"Ashley Roberts, a Minnesota reporter, received the surprise of her life during a live news broadcast Wednesday morning," Chris Witherspoon reported Thursday for theGrio.com. "Roberts' boyfriend, Justin McCray, surprised her on-air during a wedding ring segment, dropped to one knee and popped the big question. . . ."

"TV anchor lovebirds Isis Romero of KSAT and Phil Anaya of KENS recently tied the knot in San Antonio in a fun but intimate ceremony with about 80 family members and close friends in attendance," Jeanne Jakle reported Thursday for the San Antonio Express-News. 'We got married over Easter weekend,' Anaya, who co-anchors weekends on KENS, said Thursday. . . ."

On C-SPAN's Book TV, "Authors Cornel West & Robert George discuss what they've learned from each other on some of the more divisive political issues of the day. While on the opposite ends of the political spectrum, Prof. West & Prof. George teach classes together at Princeton and have a healthy respect for each other's arguments," according to a C-SPAN announcement. "This event was held at Grand Valley State University in Grand Rapids, Michigan." It airs Saturday at 10:30 am and 8 p.m. ET. George is an editorial writer for the New York Post.

Hector Tobar, who for a decade was a national and foreign correspondent for the Los Angeles Times, discusses his book "Deep Down Dark: The Untold Stories of 33 Men Buried in a Chilean Mine and the Miracle That Set Them Free," on Saturday during a panel on journalism at the Los Angeles Times Festival of Books. The festival airs on C-SPAN live Saturday at 1:30 p.m. ET, re-airing Sunday at midnight; and live Sunday at 2 p.m. ET, re-airing Monday at 1 a.m. ET.

"The Chicago Tribune today said it would be expanding the number of 'Perspective' pages seen in print and digital, beginning on Monday," D.B. Hebbard reported Thursday for talkingnewmedia.com. "The move will raise to four the number of opinion pages offered to readers Monday through Friday, and to five on Sunday. . . ."

"NBC 6 South Florida today announced exciting changes to its lineup of newscasts, including moving Jawan Strader to co-anchor the evening newscasts with Jackie Nespral, expanding Adam Kuperstein's role to include sports and adding Eric Harryman to the morning team," WTVJ reported on Friday.

Alveda King, a niece of civil rights leader Martin Luther King, Jr., joined the "Cosmo Harms Minors" campaign to demand that Cosmopolitan magazine be displayed behind blinders or in a wrapper and not sold to minors. "This staple of the supermarket checkout line has steadily declined from a somewhat inspirational women's magazine to a verbally, and many times visually, pornographic 'how-to' sex guide encouraging readers to engage in violent and dangerous sexual acts in every issue," the coalition said. The campaign is led by Victoria Hearst, daughter of Randolph A. Hearst. Cosmo is published by her family's company, the Hearst Corp.

"Before the dentist Simon B. Poyta, of Forest Hills, Queens, died in 2006, he expressed a wish that programming on WNET, New York's flagship public television station, could help combat the anti-Semitism he witnessed while serving in the army during World War II," Robin Pogrebin reported Wednesday for the New York Times. "On Thursday, WNET is set to announce a $20 million gift from the estate of Mr. Poyta and his wife, Sylvia — a comptroller, who died in 2012 — the largest bequest in its 53-year history. . . ."

"Stéphane Charbonnier, the editorial director of the satirical newspaper Charlie Hebdo who was assassinated by Islamist gunmen in Paris in January, is proving as defiant in death as he was in life," Aurelien Breeden and Dan Bilefsky reported Thursday for the New York Times. "In a book finished just two days before his death and published Thursday, Mr. Charbonnier defends his newspaper, which had been criticized for publishing provocative caricatures of the Prophet Muhammad in the years before the attack. . . ."

"In a few short years, the proliferation of mobile phone networks has transformed communications in sub-Saharan Africa," the Pew Research Center reported on Wednesday. "It has also allowed Africans to skip the landline stage of development and jump right to the digital age. Cell phones are pervasive in the region. . . ."

"A respected veteran Chinese journalist has been sentenced to seven years jail for illegally disclosing state secrets, in a verdict condemned by international human rights groups," Philip Wen reported Friday for the Sydney Morning Herald in Australia. "Known for her in-depth and often critical reportage of Chinese elite politics over her decades-long career, Gao Yu, 71, was handed her sentence in a closed-door hearing held under tight security in Beijing's No. 3 Intermediate People's Court on Friday. . . ."