Actress Gugu Mbatha-Raw, who stars in the movie Belle—now out on DVD—grew up in England watching Jane Austen films but never imagined that she would play the lead in a period drama.
Those films, like the books they were based on, never had black or biracial heroines, but Belle does. The film was inspired by the true story of Dido Elizabeth Belle, the daughter of an enslaved African woman and an officer in the British Royal Navy. Belle was raised a free woman in 17th-century England.
The film opened in May to rave reviews and so far has grossed $10,722,990 (as of Aug. 24, 2014), according to Box Office Mojo. Not bad for a movie that only opened on four screens and had trouble getting made because of the subject matter.
Mbatha-Raw told The Root in May, before the film's U.S. release, that she wanted young girls to be able to see themselves in Belle. "This is the first time I have seen a period drama with a biracial woman as the lead and it is told from a female British perspective," said Mbatha-Raw, who has a white English mother and black South African father. "The film explores issues of identity, race, class and gender, which are very universal themes, but also the film is this sweeping love story. It is such a different perspective, and I think it is important to know as a biracial person myself."
The 30-year-old-actress hopes that the film can also play a significant role in other ways. "I think there is something inspiring, just on a subliminal level, [about] having a mixed-race actress front and center and a black female director. That sends the message that you can do it, and if that inspires somebody who is not getting the encouragement they need from their surroundings, then that would make me really happy."
That director is Amma Asante, who is also British. She echoed the same sentiment when The Root spoke with her before the film's U.S. premiere.
G/O Media may get a commission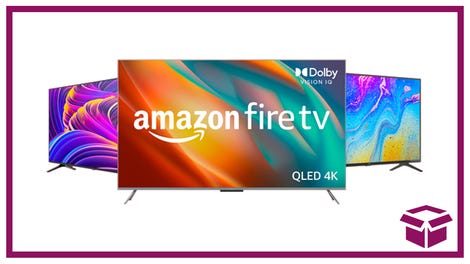 Ooh. stunning.
New Amazon Fire TVs
"There was a little girl who looked like me and you, who helped to change the course of our history. That's a good thing; we can celebrate that," Asante said.
It was the idea that a black woman would be the focus that drew Asante to the story. "I feel like it is essential to explore these stories because they are part of what makes us who we are today, and we are all responsible to own our history. We need to tell these stories," said Asante, who signed on to the project in 2009.
The director and star both admit that they knew little about Belle's life prior to becoming involved with the film. It simply wasn't taught in history class in their U.K. schools, according to Mbatha-Raw. "In the U.K., it is an area of history that has kind of been ignored in terms of Britain's contribution to the slave trade," said the actress.
Asante made a conscious decision not to include the brutal slave scenes familiar to audiences who saw 12 Years a Slave. "What I wanted to do was make an Austen-esque typical period drama, where I could put a woman of color front and center and prove it could be done. If I had made it a much harsher movie, that would not have proved those types of period dramas could contain a black woman front and center and could work," said the director.
Asante added that early versions of the script did have slaves, but that was not the story she wanted to tell. Instead she wanted to celebrate something positive within black history. "It is a challenge to pack an emotional punch with the movie and never see a slave," she said.
Mbatha-Raw noted that the film was a story not about brutality but instead "the daily humiliations and the subtleties of racism that I think are very contemporary. The moments that people go through every day was what we wanted to bring out."
Asante said that if audiences want to see more films like Belle, with black heroes and heroines, they need to show support. Asante also pointed out that she needs to do her job, too.
"[I want] to create films that I hope you would want to see more than one time," Asante said. "That I hope each time you see will bring something new to the table because you're creating so many layers. it's impossible for an audience member to take it all in in one [viewing]."
Read more on the history of Dido Elizabeth Belle here.