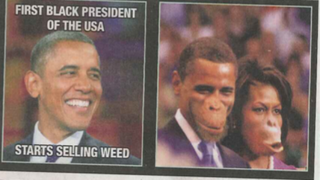 Belgian newspaper De Morgen has formally apologized after a harsh backlash over an image the paper published Saturday depicting President Barack Obama and first lady Michelle Obama as apes, Al Jazeera reports.
The Flemish newspaper published the ape photo and another of President Obama with language describing him as a marijuana seller in a satire section, "The Obama Herald," jokingly stating that Russian President Vladimir Putin had submitted the photos. The joke did not go over very well, however, especially considering that the president was to be in Belgium on Tuesday as part of his European trip.
The apology, Al Jazeera notes, came in the form of an article, "Is De Morgen Racist?" In it, the paper acknowledged that the joke was "tasteless" and said that "we wrongly assumed that racism is no longer accepted, and that in this way it could be the subject of a joke."
According to Al Jazeera, it didn't take long for Twitter users to start decrying the paper for the offensive image, with many questioning who was in charge of the paper. Some, however, did come to the newspaper's defense on the basis that the treatment was satire.
Read more at Al Jazeera.