Ever since Fenty Beauty's latest drop, we've been trying to figure out the perfect way to demo Rihanna's new line of glittery liquid-to-powder eye shadows; new, foiled Killawatt combos; and glittery lip kits. While the urge is always there to just go full unicorn with some reckless finger-painting in our local Sephora, a heavily iridescent line like this necessitates a little more thought and technique to be done right.
Plus, because frosted shades can quickly go ashy on darker skin, what we really wanted to know was: How would this line read on skin more melanated than our own?
So we were thrilled when one of our favorite brown-skinned beauties, YouTube sensation Jackie Aina, went live with a demo of Fenty's latest collection Tuesday.
Sporting appropriately coordinated pastel hair and metallic nails, Aina dipped out of her own comfort zone and into some of the icier shades in Fenty's arsenal, trying out the brand's Island Bling 2-in-1 Liquid Eye Shimmer ($26), Killawatt Foil Freestyle Highlighter Duo ($36) and Summer Daze/Summer Nights Iridescent Lip Luminizer Trio ($32).
Now, here's where it should be noted that Aina lurves makeup—and if you do, too, she's one to get into. She knows her stuff, and gives it to you straight. For instance, as much as we'd love to believe that Rih Rih is the originator of all things, Aina is quick to point out that Fenty's Island Bling, currently available in only two color-duo combinations, is pretty much exactly the same formulation as Stila's Glitter & Glow Liquid Eye Shadow ($24), which comes in 17 shades—though Fenty gives you two colors for only $2 more than Stila's single tube.
G/O Media may get a commission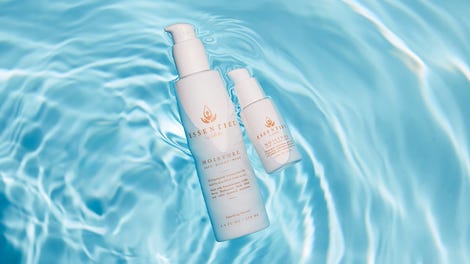 20% off
Essentiel by Adele
Aina also did some troubleshooting on the application, demonstrating that the iridescent finish can lift off if applied too heavily, though layering the color is necessary to get the full impact of the shades.
Moving on to the Killawatt highlighter, Aina thrilled us by choosing to experiment with by far the most challenging combo in the bunch, 7 Day Wknd/Poolside, which is a metallic orchid-and-violet pairing.
Expressing some very valid trepidation about how the colors would show up on her skin (blue highlighter? really?), Aina applies a deft touch, wisely starting the color on her eyes before carrying it down to the tops of the cheekbones.
The result? An ice-princess look perfect for Aina's evening out, but admittedly, not for every day. She's even willing to concede that the hues she was initially hesitant to try are likely better on darker skin. But like most things Rihanna-related, this is a collection built more for fantasy than for function. (And there's nothing wrong with that: A healthy fantasy life is important.)
Suffice it to say, we'll be cautiously dipping our toes into a few of Fenty's new offerings—the Mimosa Sunrise/Sangria Sunset Killawatt Foil looks like a must-have—but will likely leave the rest to the vloggers, since our lives behind our laptops don't quite require that level of glam.
Of course, if you absolutely must have any and everything Fenty, the entire Beach, Please! collection is available for the bargain price of $391, which features 11 full-sized "face and body must-haves"—including the entire new collection of cosmetics, a bottle of Body Lava, Face & Body Kabuki Brush 160, Cheek-Hugging Highlight Brush 120 and Fairy Bomb Glittering Pom Pom—plus a limited edition Fenty Beauty beach towel.