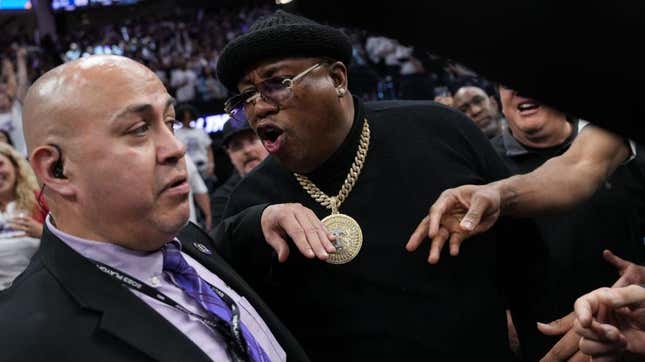 The Saturday night playoff game between the Sacramento Kings and the Golden State Warriors had everything: an amazing crowd, an NBA legend, a young star, big-time shots and highlight plays. It was quite literally a perfect basketball game. Except Bay Area legend and long-time Warriors fan E-40 did not get to witness the end of it.
You Okay Fam?: Should You See A Therapist Without Having A Problem?
During the fourth quarter, the California rapper was seen on video being escorted out of the game by arena security.
This wasn't news until Sunday, when the rapper claimed that the reason he was kicked out of the Western Conference playoff game was because of "racial bias."
In a statement, he wrote:
"On Saturday night, I was subjected to disrespectful heckling over the course of the Warriors-Kings game in Sacramento. During the fourth quarter, I finally turned around and addressed one heckler in an assertive but polite manner. Yet, shortly thereafter, Kings' security approached me, assumed that I instigated the encounter and proceeded to kick me out of the arena.

Unfortunately, it was yet another reminder that—despite my success and accolades as a musician and entrepreneur—racial bias remains prevalent. Security saw a disagreement between a Black man and a white woman and immediately assumed that I was at fault."
He later continued, "I was absolutely humiliated by the Kings' security team and I'm calling on the franchise to investigate the appalling conduct that transpired."
While the Kings are currently investigating the incident, further footage has shown the Bay Area MC getting into it with a female heckler at the game.
While nobody is entirely sure if racial bias was involved, does that look like an incident that justified the hip-hop legend being kicked out of the game? Hell no.

This isn't a situation like with Charles Oakley, where he was seen getting in a physical altercation with Madison Square Garden security. (Although it was wrong for him to get kicked out as well.)
As far as we know, nothing escalated to the point where someone's safety was at stake. Words were traded between attendees, which happens every day at professional sporting events. Tell both sides to calm down and enjoy the end of the game. But for King's security to humiliate E-40, an ambassador for one of the marquee teams in the NBA is ridiculous.