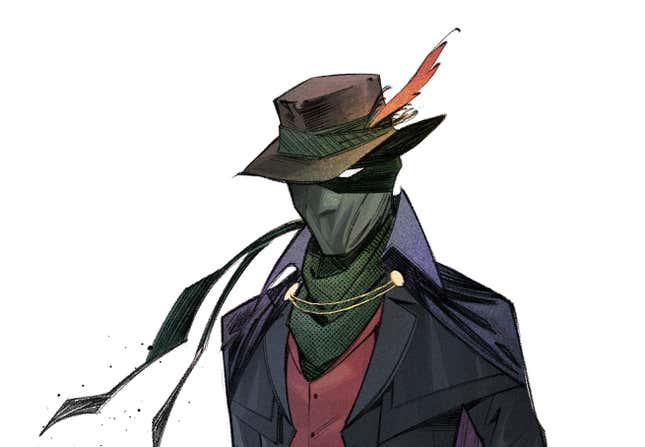 In recent years, Batman has come under fire for how he protects Gotham City. Some readers have pointed out that Bruce Wayne's wealthy, privileged life has informed how he sees the criminals he fights. I'm not talking about Joker, Penguin, The Riddler or Two-Face. This criticism is focused on how he goes after petty criminals and the level of force he uses to capture them. Now, fans of the Bat universe are getting a look at how someone from a marginalized community would fight crime in Gotham.

2023 Oscars: Ruth Carter On Turning Angela Bassett Into A Queen Through Costume
The new comic book series, Batman: Gotham Knights – Gilded City, is a prequel to the highly-anticipated video game Batman: Gotham Knights and features the Dark Knight working a case with striking similarities to one that hit Gotham City in the mid-1800s. In the parallel story, a mysterious vigilante named the Runaway fights the Court of Owls and seeks justice for an underserved and ignored part of Gotham City. Though their identity has not been revealed yet, it is heavily implied that the Runaway is an escaped slave. Writer Evan Narcisse spoke to The Root about what drove him to create the character and how the Runaway's idea of justice differs from Batman.
"I wanted to come up with a character that was oppositional to Batman, at least in terms of the background. I wanted the Runaway to come from the exploited classes of people who were in Gotham City at the time," he said. "Once you deal with that, you are thinking about Bruce Wayne, who—let's assume he has all the altruism in the world—he's still punching down. He's in the scenarios we so often see Batman in where he's roundhouse kicking people doing a mugging on the street, [and doesn't] really investigate the kind of systemic reasons why those people might be doing that."
In the Bat universe, we spend a lot of time on how corrupt Gotham City is. But Batman the hero doesn't really examine how those crooked structures lead to the crime he encounters on a nightly basis. Since it's not from the perspective of a billionaire from an old money family, the Runaway's story can actually delve into a different aspect of being a vigilante in this city.
"With the Runaway, I want to put a character in the era that shows why some of these systemic injustices, like socioeconomic ones in particular, happen. It sounds a little heady, it's not a term paper, but I did want to compare and contrast the characters in a way that highlights their differences," Narcisse added. "The first time you see the Runway in action, they're breaking up some slave patrollers who were trying to abduct a free Black woman back into bondage and I want to see a character like that, pursuing that kind of justice. It's something that has been relatively rare in the history of superhero comics."
Narcisse was inspired to create the Runaway after a conversation he had with his child when they first started learning about slavery in school. Like any kid, they were curious and wondered if Black people fought back against their oppressors. The writer, who is Haitian-American, wanted to deliver a hero inspired by freedom fighters and revolutionaries from Black history.
"If you know about the Haitian Revolution, there's all kinds of heroism that was brought to bear against oppression there," he said. "I wanted to invoke some of that same history in the fiction, and not for nothing, Gotham City seemed like a great place to do it because all the lore about Gotham tells us that it's been corrupt and broken almost since its inception."
As for whether we'll learn the Runaway's actual identity, Narcisse plays it close to the vest, but explains that the masked hero isn't far removed from real life activists.
"I have to keep the mystery of the Runaway's real identity secret for a while but, it just stands to reason that the kinds of people who fought against oppression, it doesn't seem that far a jump that one of them will put on a mask and take things up a notch significantly," he said.
Batman: Gotham Knights – Gilded City #1 is now available.