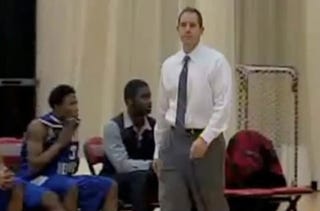 AOL Black Voices reports that coach Jason Popp may see his entire undefeated basketball team at Richmond Heights High School in Ohio boycott the rest of their games after he allegedly used foul language and racial slurs against his players.
Many of the players are thinking about sitting out their game on Tuesday if their coach remains at the helm.
"He was like, 'Well, you guys don't go out and play n—-er basketball.' He was like, 'Cause this is what they gonna expect y'all to do, play n—-er basketball'," said varsity player Jordan Early.
Putting aside the obvious "Who can use the n-word?" debate and conversations about ongoing racist stereotypes about black versus white athletes and their style of play, was that honestly the best pep talk you could come up with, Coach Popp?
Read more at AOL Black Voices.
In other news: AFRO-American Newspaper Partners With Google to Create Searchable Archives.