Updated as of 4/5/2022 at 9:15 a.m. ET
Former President Barack Obama is returning to the White House to join President Biden for an event celebrating the Affordable Care Act and Biden's new proposal to fix the law's "family glitch" reported USA TODAY. This will be Obama's first time returning to the White House since the end of his presidency.

ACA, also known as Obamacare, went through many challenges not only being signed into law but kept in the law. Former President Trump nearly dismantled the entire law. However, it remained intact once he left office and continued receiving support from former President Obama.
More from CNN:
Since leaving office, the former President has repeatedly touted the Affordable Care Act, which has proven increasingly popular in GOP-led states that have not expanded Medicaid to low-income adults.
Obama's appearance also comes as the Centers for Medicare and Medicaid Services launches advertising and outreach campaigns to spread the word about a new special enrollment period for low-income Americans who missed signing up for 2022 Affordable Care Act coverage.
A White House official said Obama is expected to "deliver remarks celebrating the success of the Affordable Care Act" and acknowledge Biden's initiatives for cutting healthcare costs for millions of Americans, according to CNN.
Biden is expected to announce a proposal to fix the "family glitch" in ACA which he's been working on since his first days in office, reported USA TODAY. The change to the law can also be done without Congress.
G/O Media may get a commission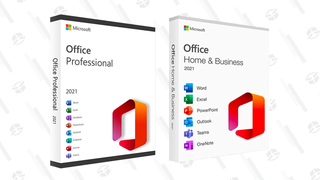 89% off
Microsoft Office Professional 2021 Lifetime License
More about the proposal from USA TODAY:
The proposal: If a workplace plan for a whole family costs more than 10% of a family's income, then the worker's spouse and children could get help purchasing a private plan through the Obamacare marketplace.

The change, which would go into effect as early as next year, could allow an estimated 200,000 people without insurance to gain coverage, according to the White House.
Nearly one million people would eligible to switch to a more affordable plan in the subsidized marketplace if an insurance offered by an employer is unaffordable.
"Joe Biden, we did this together. We always talked about how if we could get the principle of universal coverage established, we could then build on it," Obama said in a video from the White House. "The effort was worth it. The families that have been able to care for their loved ones, be cured, have access to care, That all makes it worthwhile."
NBC reported this is also Obama's first Washington appearance since Biden's inauguration. However, he is expected to return for the unveiling of the presidential portraits of him and former first lady Michelle Obama, per CNN.