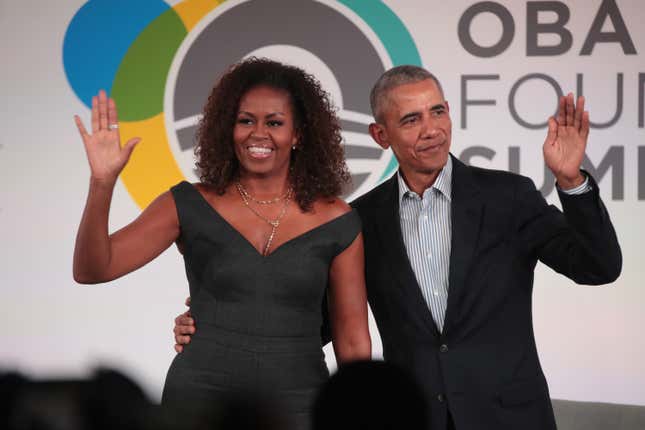 Former President Barack Obama is opening up about how he was able to get back into his wife Michelle's good graces at one point in their marriage.

Barack Obama Hosts Working: What We Do All Day, Our TV Pick This Week
Speaking to CBS Mornings Nate Burleson on Tuesday, President Obama revealed the one thing that he feels has helped tremendously when it comes to reconnecting with his wife: leaving the White House.
"Let me—let me just say this: it sure helps to be out of the White House. And to have a little bit more time with her," Obama explained. "You know, what also helps though…about children. And I don't know about your spouse—Michelle, when our girls were growin' up—that was priority number one, two, three, and four."
He continued:
"And so I did not fully appreciate I think, as engaged of a father as I was, the degree of stress and tension for her knowing that not just me and Michelle were under scrutiny and in this strange environment but that we were raising our daughters…in a kind of situation that just wasn't normal. Now that they're doin' good, you know, she is a little more forgiving of all my flaws. She says, you know, what she's told me is: 'You know, lookin' back, you did okay as a dad.' And if I pass that test then, she'll forgive me most of my other foibles."
The Obamas have recently been more and more open about the ups and downs in their marriage over the last year. As you may recall, in December 2022, the former First Lady shockingly divulged that she "couldn't stand" her husband for 10 years at one point during their marriage, citing the imbalance of professional pursuits and personal responsibilities between them both.
"People think I'm being catty by saying this—it's like, there were 10 years where I couldn't stand my husband. And guess when it happened? When those kids were little," she explained during a panel discussion for Revolt TV. "And for 10 years while we're trying to build our careers and, you know, worrying about school and who's doing what and what, I was like, 'Ugh, this isn't even.' And guess what? Marriage isn't 50/50, ever, ever."