The NFL season is entering only its fourth week, but some key trends are already apparent. Let's look at the undefeated and winless teams so far. There are seven of each and four of the undefeated teams are going to need really big bandwagons.
Consider then Baltimore Ravens. It's not a big surprise that they won their first three games, but it's how they won those games that is eye-popping. The Ravens have averaged 34.3 points a game. For this entire decade, it seemed that the Ravens were merely a competent offense away from a dynastic run. In 2000, they went five straight games without scoring a touchdown and yet went on to win the Super Bowl anyway.
Last season their offense rose to an above average level (24.1 points per games, 11th in the league), and this season they are overwhelming opponents, while their defense remains stout, allowing only 56 points so far and ranking second in Football Outsiders DVOA ratings, which factor down and distance and other situational factors to determine yardage aggregates. The only thing that tempers my bullishness on the Ravens is their schedule. They beat two cream puffs, the Kansas City Chiefs and the Cleveland Browns, and their road win in San Diego looks a tad less impressive due to the Chargers long injury list. In the next three weeks the Ravens play at New England and at Minnesota plus a home game against the improved Cincinnati Bengals (a team that is only a fluke play from being undefeated). If Baltimore goes into their bye week 5-1, then Super Bowl dreams are legit in Maryland.
The Indianapolis Colts bring some of the same arguments to the table as Baltimore except their long standing unassailable strength is their offense. For years it seemed that Indy could score against anyone (except maybe the New England Patriots in the playoffs but the Colts 38-34 win two years ago removed that caveat), however stopping their opponents was not always a strength (they were 23rd in points allowed during their Super Bowl season in 2006).
Lately the Colts have become a defensive powerhouse, finishing first and seventh in points allowed in the last two years, and this season they rank third after three games, two of them road contests against 2008 playoff teams, the Arizona Cardinals and the Miami Dolphins. And despite the injury to Wide Receiver Anthony Gonzales, they are still scoring in bunches, averaging 24 points a game. Judging from the continuity, you wouldn't know that there was a wholesale turnover of the coaching staff. Except for a night game at Tennessee on October 11th, the Colts could have a smooth run until mid November when, on consecutive Sundays, they face New England and Baltimore in what will certainly be playoff previews.
G/O Media may get a commission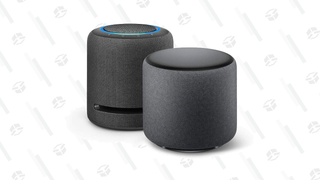 25% off - Prime Exclusive
Echo Studio + Echo Sub Bundle
Both New York teams, the Jets and the Giants, are undefeated and both have played well enough to start some talk of a Big Apple Super Bowl. If it happened we'd all find out that New York isn't much of a football town; that's what happens when both "local" teams play in another state. Both starting quarterbacks, the Giants Eli Manning and the Jets rookie, Mark Sanchez, have received a lot of the credit for their teams' rise, but the real story is on defense.
The Giants bolstered the depth of their front seven in the offseason and it has paid off. Despite some key injuries, the Giants have given up only 48 points this season. The Jets brought both a new coach, formers Ravens Defensive Coordinator Rex Ryan, and a star linebacker Bart Scott, also a former Raven. Gang Green has allowed only 33 points. The Jets stern test will come Sunday against high-scoring New Orleans. With the exception of a road game at New Orleans in week six, the Giants' slate doesn't get difficult until November, but it stays tough from that point until the end of the season. The big issue with both teams may be managing expectations.
I'm not sold on the other undefeated teams yet. I'm close to being convinced about New Orleans and their 40-points-per-game offense (yes, 40 points a game and they led the NFL in offense last season too). I'd like to see what they can do against a good team in cold weather, but that may have to wait until deep into the playoffs. The Denver Broncos are undefeated due to a weak schedule and the aforementioned fluke catch (against Cincinnati.) They are improved, but with their upcoming schedule, it could be December before the Broncos win again.
The Minnesota Vikings owe the schedule makers a big debt for their undefeated start, but things are about to get a lot tougher. They are looking at an October that includes two games with the Green Bay Packers, and one each with the Ravens and the Pittsburgh Steelers; that should be a good gauge of how good the Vikes are.
Of the seven winless teams, two, the Miami Dolphins and Tennessee Titans, look like good bets to get off the mat and reach respectability; both had tough early schedules. The Tampa Bay Buccaneers, Kansas City Chiefs and the St. Louis Rams may be works in progress all season. They have well-regarded rookie head coaches who might chalk up this season to on-the-job training. Fans of the Carolina Panthers and Cleveland Browns might want to watch a lot of NCAA football, since their next blast of hope will be in next year's draft.
Martin Johnson is a regular contributor to The Root.
Martin Johnson writes about music for the Wall Street Journal, basketball for Slate and beer for Eater, and he blogs at both the Joy of Cheese and Rotations. Follow him on Twitter.