They say money cannot buy you happiness, and apparently, it also can't buy you excitement, to hear one suburban mom tell it.
Melissa Bergman lived in a $475,000 home in Mason, Ohio with her husband and two children, the regular old American dream, but last summer Bergman went on a two-day stealing spree, taking up packages from outside of her neighbors' houses, hitting 12 homes in that time span.
"I feel like I had everything that any woman would ever want," Bergman told WLWT before adding, "I felt like my life was going nowhere. I felt like I had nothing to look forward to in life."
Bergman told the news station that last summer, before her crime spree, she attempted suicide, then a few days after being released from the hospital, she found a package on her doorstep that belonged to a neighbor.
"So I drove to the person's house and I said, 'Hey, I got this package. It's not mine.' He had three other packages on his doorstep, so he took the package and he closed the door, and I'm like, 'Oh he doesn't want these,' so I took one, and I put it in my car," Bergman said. "That's when the urge started getting worse and worse and worse, and I couldn't control it."
G/O Media may get a commission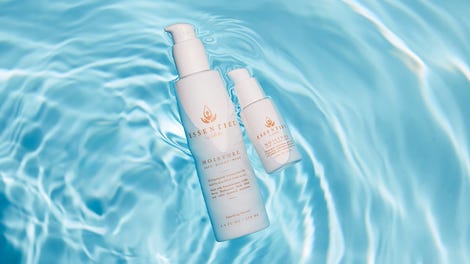 20% off
Essentiel by Adele
Bergman said from that initial rush, she found some excitement.
"It's not like I was selling it, not like I needed it," she said. "Just the excitement of looking to see what was in that box and knowing, ya' know what, 'Since he didn't want this item, this item can be donated to someone that actually really needs it,' and that was the thought that went through my head."
I'm sure.
Bergman even took her kids along for the ride the following day.
"I had my children, and that's when we went all day and just took boxes," Bergman said. "I pulled right into the driveway, walked right up to the door, didn't look for security cameras and just grabbed a box when I saw it."
Bergman, who served in Afghanistan, said that PTSD could have been a trigger, adding that one psychologist thought that her past could have set her off.
"He's, like, 'Melissa, you were doing so much at one time and then it just stopped. So you doing this, gave you that excitement that you once had back in Afghanistan.' That's what I'm thinking is the correlation. You got excitement out of this just like you did in Afghanistan, but it was a different type of excitement," Bergman said.
However, Bergman, who again is set to serve an easy 30 days in jail, says she doesn't want to make excuses but instead wants to apologize publicly.
"There's no words that I can ever say to describe how sorry I am for what I had done. It hurt tremendously, and I just want to go and give them a hug and say, 'So sorry for hurting you,'" Bergman said, her voice cracking.
That being said, this is apparently not Bergman's first rodeo in this realm. In a separate case in November she was arrested for theft and misuse of credit cards, however, she was never convicted, and she was instead ordered to complete Warren County Veterans Intervention Program.
Oh, to be well off, white and relatively young, I guess.