Allen Bullock, the 18-year-old seen in photos smashing in a police car with a traffic cone, turned himself in after being encouraged by his parents. But now he is being held on $500,000 bail, an amount his parents cannot afford, The Guardian reports. 
Bullock faces charges of rioting and malicious destruction of property, among other criminal counts, after turning himself in at the Baltimore City Juvenile Justice Center with his stepfather, Maurice Hawkins, at his side.
According to Hawkins, who saw footage of his stepson on Saturday, the teen agreed to turn himself in after his stepfather told him that the police would "find him, knock down our door and beat him" if he didn't, The Guardian notes.
However, no good deed goes unpunished, and Hawkins now believes that they are making an example of the teen. "By turning himself in, he also let me know he was growing as a man and he recognized what he did was wrong," Hawkins told The Guardian on Wednesday. "But they are making an example of him, and it is not right."
"As parents, we wanted Allen to do the right thing," Bullock's mother, Bobbi Smallwood, said. "He was dead wrong, and he does need to be punished. But he wasn't leading this riot. He hasn't got that much power."
G/O Media may get a commission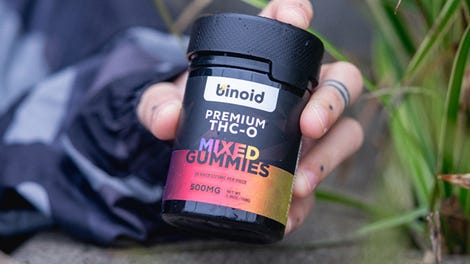 25% Off + Free Shipping
Binoid THC-O Gummies
Hawkins noted that the proposed amount is higher than that placed on some accused murderers in the city. "Who could afford to pay that?" the stepfather asked.
"If they let him go, he could at least save some money and pay them back for the damage he did," his mother agreed.
The eight misdemeanor charges Bullock face are his first as an adult, with rioting carrying a maximum of life in prison. The Guardian, however, says that his parents believe that four to eight years is a more likely sentence. Bullock, who was convicted of minor offenses as a juvenile, was working in city sanitation under a program for people in juvenile probation, The Guardian notes, earning more than $15,000 a year.
His parents say that the teen was accused of inciting the clashes that started boiling over on Saturday, but they deny that claim.
"Teenagers follow one another," Hawkins said. "That's just what they do."
When asked if they regretted encouraging the teen to turn himself in, his stepfather remained adamant, saying, "I know what would happen to him if he hadn't."
His mother didn't feel the same way. "I do," she said.
Read more at The Guardian.