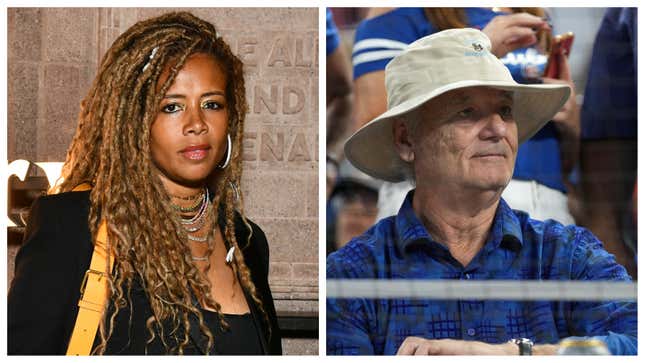 Updated as of 6/12/2023 at 4:00 p.m. ET.: 
In response to the incredulous speculation that singer Kelis and longtime actor Bill Murray are romantically involved, the "Milkshake" singer did little to silence the talk on Monday.
Killing Eve and Cruella Star, Kirby Howell-Baptiste, Plays That's So Random
After one user tried to allege she was using Murray for "fame and fortune" in her the comments on one of her Instagram posts, the "Bossy" singer responded: "Lol yeah maybe for now everyone's dumb and will believe anything but the best part is we are both blessed, rich and happy. So who's really laughing now that's funny."
When another user asked if she was going to address the rumors on the same post, however, she said: "Lol no babe, I wouldn't bother at all." Murray has yet to comment.
See the original story below.
In Friday's edition of "WTF Bro?! News," singer Kelis and veteran actor Bill Murray are reportedly dating. Yes, you read that right, and no, I can't believe it either.
This news comes via TMZ which claims that the two have been getting close in London where the "Milkshake" singer has been performing recently, as well as here in the States. Murray was reportedly spotted backstage at one of her shows and has been enjoying a handful of her performances across the pond. He was also seen at the same hotel in London as Kelis, which further added to potential romance speculation.
While neither the "Bossy" singer nor the actor have come out and confirmed or denied these relationship talks, a close friend told the outlet: "Whatever it is that has brought them together, and however unlikely it seems, they are both single and are having fun despite the fairly big age gap."
However, Twitter was floored.
One Twitter user @afewbadgregs tweeted, "hey guess who kelis is dating i'll give you infinity tries."
News publications also struggled to make sense of the news. Los Angeles Times wrote, "First Bad Bunny started hanging out with Kendall Jenner. Then Taylor Swift reportedly dated Matt Healy. But perhaps the title for most confounding alleged couple of 2023 goes to actor Bill Murray and singer Kelis."
You know what? At this point in the Matrix, I wouldn't put it past them to be a couple. These veteran white actors have been surprising us all lately (looking at you specifically Robert De Niro and Al Pacino) and love is love after all. So maybe the two of them really have hit it off and are finding what they need in each other. 2023 also seems to be the year of surprising couples anyway (Megan Thee Stallion and Romeli Lukaku; Jonathan Majors and Megan Good—allegedly), so as the saying goes: if she likes it, I love it.
I would be remiss, however, if I didn't note just how odd the pairing sounds and feels, but seeing as how we've been expecting the unexpected since the start of 2020, this news is par for the course.
But then again, the couple share one sad thing in common: death of a spouse. Kelis was married to photographer Mike Mora in 2014 with whom she shared two children. Mora passed away in 2021 after a years long battle with Stage 4 stomach cancer. As for Murray, he's the father of six children and has been married twice. In 2008, he divorced costume designer Jennifer Butler, with whom the actor shared four sons. Butler sadly passed away in 2021 as well, which could explain why Murray and Kelis are allegedly drawn to each other as The Sun claimed, the two could also be bonding over their shared losses.