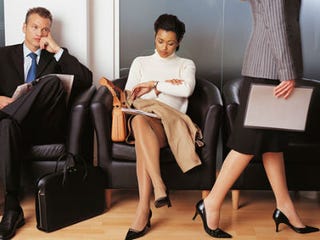 ABC's 20/20 put 20 of the "blackest" and "whitest" (as determined by D. Levitt and Stephen J. Dubner's book, Freakonomics) male and female names to the test, posting identical résumés with different names at the top. Guess which ones got ignored?
OK, that wasn't a hard question.
Those with the white-sounding names were actually downloaded 17 percent more often by job recruiters than the résumés with black-sounding names, according to ABC News. Sad (and probably dumb on the part of those doing the hiring, considering that they're passing over people with qualifications that meet their needs), but not really surprising.
Some examples from the lists of "black" names:
Imani
Ebony
Shanice
Aaliyah
Precious
Nia
Deja
Diamond
Asia
Dominique
DeShawn
DeAndre
Marquis
Darnell
Terrell
Malik
Trevon
Tyrone
Willie
Demetrius
Is yours on the list? If so, let us know in the comments how you think it has (or hasn't) affected your professional life.
You can watch the 20/20 episode containing the experiment on Friday night at 10.
Read more at ABC News.