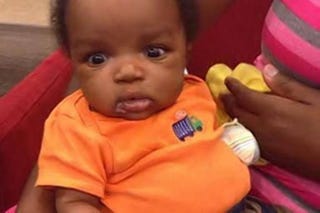 A missing 11-month-old boy from Houston was found Friday in Mexico during an intense search sparked by the discovery of his mother's mutilated body at her home, police said, according to the New York Daily News.
Achilles Lambert, who police say was abandoned by his father, Patrick Lambert, 38, was found in good condition in Queretaro, central Mexico, the news outlet reports. An Amber Alert was canceled after the child was recovered.
Patrick Lambert, who has since been named a suspect in his estranged wife's death, was arrested in a separate, unidentified location in Mexico, the report says.
The search began Monday after the body of the child's mother, Anastacia Oaikhena-Lambert, 27, was discovered in a refrigerator in her Houston home, the report says. The discovery came after maintenance workers noticed a foul odor emanating from the apartment. It is unclear how long Oaikhena-Lambert had been dead, but an autopsy determined that she died from stab wounds to the neck, the report says.
The father and son are now waiting to return to the United States, the Daily News reported.
Read more at the New York Daily News.