The assault on an 83-year-old Korean woman in Koreatown in Los Angeles that reportedly went viral on social media is not being investigated as a hate crime, according to the Los Angeles Police Department.
The assailant allegedly yelled "white power" before running away, according to a post reportedly shared across Facebook that has since been made private, but LAPD Sgt. Randy Espinoza says that there's no evidence the attack was racially motivated, the Los Angeles Times reports. According to Espinoza, none of the witnesses told investigators that the suspect, who has been apprehended, made any racial remarks.
The attack unfolded Wednesday when officers were called to the scene around 2:30 p.m. A witness told officers that the suspect punched the elderly woman in the back of her head, causing her to fall to the ground.
Seng Vongphrachanh, who lives in Koreatown, didn't see the actual attack but said that he and another man chased down the attacker. The female assailant, he told the Times, seemed "out of it" and repeatedly yelled "power is power" and the n-word. Vongphrachanh said that he gave detectives the same account of events.
G/O Media may get a commission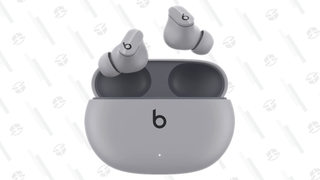 The victim sustained a 1-inch cut to her left cheek as a result of her fall and also had some pain in her knee, Epinoza said. The victim told investigators through a translator that she was caught off guard and didn't know what hit her, the Times reports. Police said that it was not immediately clear what motivated the attack.

The 27-year-old suspect gave her name as Patty Garcia, but Epinoza said that fingerprints identified her as Alexis Duvall. She is being held in lieu of $50,000 bail. Epinoza said that the suspect appeared to be under the influence or mentally ill and said she was homeless. Epinoza added that she was yelling obscenities at officers as she was being booked.
In the post that reportedly went viral late Wednesday, a Facebook user who described herself as a friend of a witness wrote that the assailant yelled "white power." The post, according to the Times, also featured a photo of the victim being treated for facial injuries.
Read more at the Los Angeles Times.