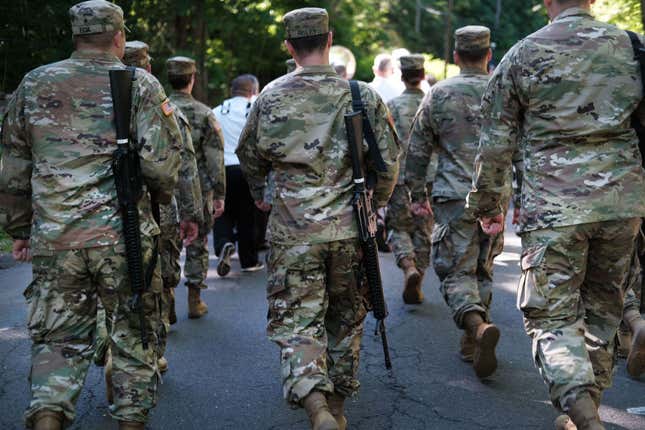 The United States Army wanted a feel-good moment. They got the truth instead.
In a thread that included videos of Army Pfc. Nathan Spencer, a 1st Infantry Scout sharing how the army has positively impacted his life, the Army's official Twitter account asked a simple question to veterans and Americans currently in service:
How has serving impacted you?
Tackling A Black Maternal Health Crisis & Embracing Reproductive Justice | The Root Institute
In official military parlance, replies zigged when some poor social media editor hoped they would zag.
From brief glimpses of life at home after service:
To heartbreaking stories of loss:
To stories of baffling negligence and abuse:
To paraphrase the nearly 11,000 replies as of Monday afternoon, it went poorly.

With around 20 million veterans in the United States according to the Department of Veterans Affairs, the outpouring of brutal honesty, which was dotted with positive stories of triumph and family, was likely the tip of the iceberg.
Fewer than half of veterans receive benefits or services. Thirty percent of Vietnam veterans, 12 percent of Gulf War veterans, and up to 20 percent of Operations Iraqi Freedom and Enduring Freedom veterans are living with post-traumatic stress disorder, per the VA.
According to a report released by the department, vets are 1.5 times more likely than civilians to take their own lives. More than 6,000 veterans ended their lives between 2008 and 2016, the report stated.
Recognizing the moment it had thrown itself into, the Army's account resided with another thread of tweets on Saturday encouraging vets in need to contact the Veteran Crisis Line at 1-800-273-8255 or veteranscrisisline.net.
"To everyone who responded to this thread, thank you for sharing your story," one tweet read, "Your stories are real, they matter, and they may help others in similar situations. The Army is committed to the health, safety and well-being of our Soldiers."
Veterans who need assistance are encouraged to contact the VA crisis line at 800-273-8255 and select option 1. They can also send a text message to 838255, or chat with counselors online.