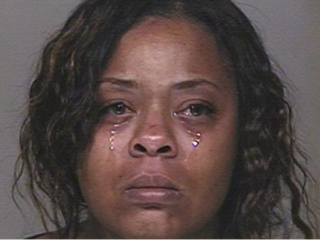 Shanesha Taylor, the Phoenix woman whose tearful mug shot went viral after she was arrested for leaving her two small children in her car while she attended a job interview, has pleaded guilty to child abuse.
According to AZ Central, after Taylor's arrest March 20, 2014, a crowdfunding campaign raised $114,000 in donations, and Taylor's initial plea deal required her to put $60,000 of the funds into a trust fund for her children. With that arrangement, prosecution was deferred.

Taylor, 36, argued that the amount was too much because she was still unemployed and needed the money from the donations for living expenses. According to AZ Central, records filed with the court show that Taylor spent some $4,000 a month, including "about $300 on clothing, $275 on cable TV and Internet, and $70 on mobile Internet monthly. The documents also show Taylor spent $300 on entertainment, dining and recreation per month. More than $1,000 was spent on monthly rent, with an additional $745 for vehicle-related expenses and $500 for groceries."

Because Taylor failed to put the agreed amount in a trust, the Maricopa County Attorney's Office reinstated prosecution against Taylor in October. On Monday Taylor changed her plea to guilty to one count of child abuse.
According to AZ Central, the count of child abuse is a class 6 felony and domestic violence offense.
Taylor is to be sentenced May 15, but the news site notes that she is most likely to get at least 10 years of supervised probation and be ordered to complete a "treatment program for domestic-violence offenders and [also] parenting classes."