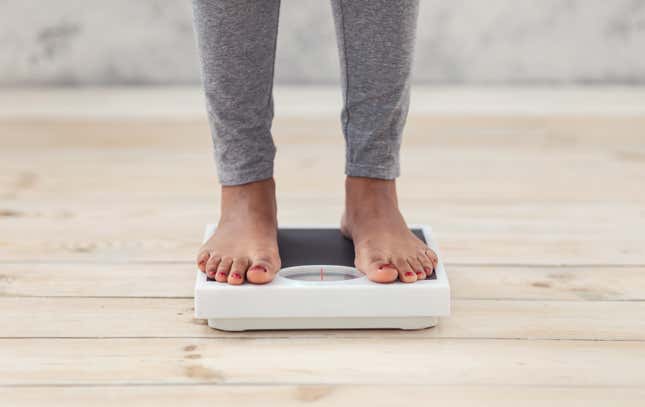 We live in an age where prescription drugs are constantly marketed to us. It's hard to watch television without seeing a commercial for some medication with a weird-ass name that promises to make your life better. Those ads featuring smiling actors showing off their bodies in bathing suits after their eczema clears up have people running to their doctors to ask for the medicine by name faster than they can pull out their prescription pad.

Here's 6 Things You Should Know About Long COVID
Can Diabetes Drugs Help You Lose Weight?
Ozempic and Mounjaro are weekly injectable prescription medications marketed as a way to help those living with Type-2 diabetes regulate their blood sugar. These drugs are not intended to be used for weight loss. In fact, disclaimers on their websites clearly state that they're not in the business of helping patients drop a dress size.
But people have been known to shed pounds while taking both drugs. Ozempic's active ingredient, semaglutide, has been approved by the FDA to treat obesity at a higher dose. It is currently sold under the brand name Wegovy. And tirzepatide, which is found in Mounjaro, is expected to be approved as a weight loss drug by the FDA next year.
As Wegovy has become harder and harder to find, social media has exploded with people crediting Ozempic and Mounjaro for helping them take unwanted weight off. Some have also made the switch after discovering that their insurance covers diabetes drugs and not drugs intended for weight loss.
The trend has even found its way to Hollywood and has become so popular, that it's left some to assume that it's the only way stars slim down.
The Key to Looking Good in Hollywood?
In September, Variety published a piece proclaiming Ozempic as the thing keeping most of Hollywood looking snatched. "Hair, makeup and styling teams for celebrities have come to accept the injections as part of grooming rituals ahead of major events," the article states.
Chelsea Handler joked about Ozempic's appeal in Hollywood at the recent 2023 Critics Choice Awards, saying, "The word 'gaslighting' was actually Merriam-Webster's word of the year. And for those of you who don't know, gaslighting is when someone tries to convince you that your own perceptions of reality are wrong. Like when celebrities say they lost weight by drinking water, but really it's because everyone's on Ozempic."
In a recent Instagram post, Khloe Kardashian goes hard at a commenter who suggested she's used diabetes medication to slim down to an almost unrecognizable version of her former curvy self.
"Let's not discredit my years of working out. I get up 5 days a week at 6am to train. Please stop with your assumptions. I guess new year still means mean people." she replied.
And Real Housewives of Beverly Hills star Kyle Richards defended herself on Instagram after comments on a super-slim photo of her suggested Ozempic was the reason for her skinny selfie. "I am NOT taking Ozempic. Never have," she emphatically clapped back.

What's The Problem?
So a couple of stars are getting a little help to look their best. What's the big deal? Well, recent reports have suggested that Ozempic and Mounjaro's growing popularity with dieters is getting in the way of people who actually need the drugs to manage their diabetes. The FDA lists the drug as "currently in shortage" on its website. And doctors are noting that the shortage is a problem for their patients.
"Our patients with diabetes are struggling just to get their medications to control their blood sugars and so we're having to substitute other medications, increase their insulin requirements," said Dr. Disha Narang in a recent interview with a Chicago ABC affiliate. Dr. Narang adds that "People are gaining weight back from not being on these medications and so it really is becoming a problem for our patients that are dealing with type 2 diabetes."
There is also the issue of the weight coming back when patients stop taking the medications.
"Studies show that stopping Ozempic completely will likely lead to regaining most of the weight lost within several months," Rekha Kumar, M.D., told Forbes.
Influencer and model Remi Bader recently opened up about how Ozempic made her issues with binge eating worse and caused her to gain back double the amount of weight after she stopped taking it. "It was making me think I wasn't hungry for so long, I lost some weight. I didn't wanna be obsessed with being on it long term. I was like, I bet the second I got off I'm gonna get starving again. I did, and my binging got so much worse. So then I kind of blamed Ozempic," she said.
And like all of the prescription med ads, we can't forget about the side effects. Although doctors suggest Mounjaro and Ozempic are relatively safe, there are potential downsides to taking these drugs. Both Ozempic and Mounjaro warn of a list potential side effects that include nausea, diarrhea, stomach pain. So, do your research, consult with your doctor and weigh the pros and cons before taking these drugs to lose weight to make sure it's the best decision for your overall health.