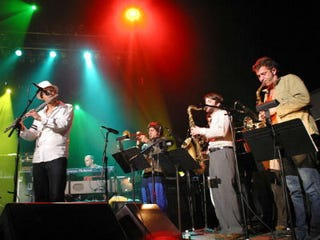 (The Root) — After the success of Fela!, the award-winning Broadway hit based on the life and sounds of Afrobeat forefather Fela Kuti, Brooklyn, N.Y.'s Antibalas are extending their influence beyond the stage lights.
The band's self-titled album, released Tuesday, is their first studio effort in five years. A multicity tour with stops in cities including Los Angeles, Chicago and Atlanta will support the new project. The group's upcoming performance on Aug. 18 at Williamsburg Park in their Brooklyn hometown should leave the audience captivated by Afrobeat's signature Yoruba rhythms and American jazz riffs.
Even with Antibalas' trademark groove, a lot has changed for the group since artist Martín Perna founded them in 1998. Broadway and the acceptance of African culture within the mainstream has put the band in demand. Antibalas assisted Fela!'s pit band in every production, and album producer Gabriel Roth, Antibalas' former guitarist, has worked on projects featuring Sharon Jones and the late Amy Winehouse.
Check out "Hypocrite," a song from their 2002 album, Talkatif:
Previous recommendation: Black Arts Event Heads to Martha's Vineyard.
Got ideas for The Root Recommends? Send them to recommendations@theroot.com.