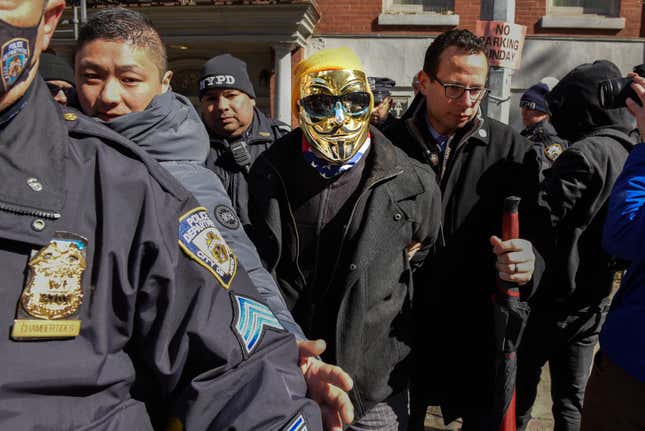 New York Attorney General Letitia James was hosting a drag queen story hour Sunday in Manhattan when a group of anti-LGBT protestors disrupted the peace outside the venue. According to NBC News, the ringleader of the protest has been arrested for getting violent with an event supporter.

Another Anti-Trans Policy Forced Virginia Students to Walk Out in Droves
While children enjoyed drag story time inside the LGBTQ Community Center in West Village, the reading of "A Bad Case of Stripes" or "If You Give A Mouse A Cookie" was rudely interrupted by a group of white supremacists. The report says members of the Proud Boys gathered outside along with other groups including the Ultra Orthodox Rabbis condemning the event. However, if a bunch of white supremacists are on the scene, you can count on things to get ugly.
In videos posted on Twitter by a reporter from Freedomnews.tv, a man in a gold mask straight out of "The Purge" is seen rattling a barricade in front of the supporters right before being arrested by the NYPD. Authorities identified him as Robert Porco, 53, who was accused of swatting reporters' cameras and striking an event supporter in the face. In another clip, Porco came from behind the mask, revealing his face with blood dripping down the side after he seemingly getting a taste of his own medicine.
"I came here to help, not get the sh*t beat out of me," he said in the video, while walking off with a man wearing a Proud Boys hoodie.
Help?! If anything, he would've scared those kids. It's unclear whether it was an event supporter or NYPD officer who assaulted him but the interaction left him looking pitiful. He also got charged with misdemeanor assault for swatting the demonstrator.
Witness the chaos below:
The AG was displeased at the behavior and defended the LGBT community by emphasizing her efforts to make the city and state safe for them.
Read from NBC News:
Representatives for James and Drag Story Hour's New York City chapter did not immediately return NBC News' request for comment regarding the clash. But in a statement on Sunday, James said the recent rise in anti-LGBTQ protests and legislation has left her "devastated and disappointed."

"Hate has no home in New York, and I will always fight to ensure our LGBTQ+ siblings' rights are upheld and defended," she said.

"My two young daughters have been going to Drag Queen Story Hour for years with their two dads. They like it for the simple reason that it's fun and interesting — there's nothing more complicated than that," New York state Sen. Brad Hoylman-Sigal, who is gay, said in a statement Sunday. "Those who are attempting to use Drag Queen Story Hour to stir up controversy and vitriol directed at the LGBTQ community and specifically drag artists should be ashamed of themselves."
New York is just the latest location to experience a drag queen event targeted by white supremacists who believe these gatherings are to push the "gay agenda" and corrupt the children. Members of the Proud Boys disrupted another drag story time in Alameda County leading to response from the police. Another time, in Idaho, a U-Haul truck full of right-wing extremists conspired to riot at a Pride Parade.
Their obsession with the LGBT community knows no bounds.