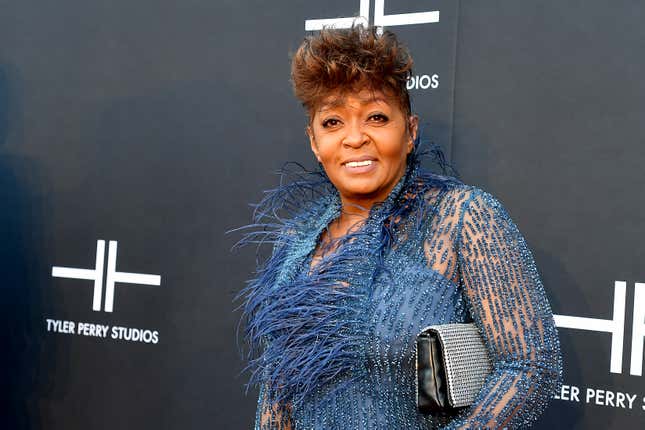 Last month, we told you about that Babyface, Anita Baker concert that got caught up in the mess after the "Whip Appeal" artist was reportedly asked not to perform his opening act, citing technical difficulties, so that Baker could still go on during her set time. Well now, the "No One in the World" artist is speaking out about it.
How Queen Latifah's "U.N.I.T.Y." Stood Up For Black Women Against Domestic Violence
As previously reported by The Root, once the news of Babyface's non-performance began circulating online, many fans and entertainment industry folks used it as an opportunity to air out their grievances with Baker, alleging that this was just another example of her "diva-like behavior" that she's been displaying for years.
When one user alleged that she mistreated Maxwell the same way she did Babyface, Baker took to Twitter to silence the noise once and for all.
"Anita Baker needs to stop having Co-headliners if she going to continue to act this way. She did this awhile back with Maxwell," the user said.
"Dear Sir. My Companies, have No contract for Co-headling concerts. My Corps execute Percentage Agreements, with its Trademark as headliner. I have Never, worked with my friend Maxwell. Your statements, constitute Slander & create libility. abxo," Baker began.
When another user alleged she subjected the late Luther Vandross to the same treatment back in the day, she responded:
"Mr. Vandross & I were one of the Most Successful R&B/Pop, Sold Out, Arena Concert Tours, of its Time. We Created Joy, Jobs & Commerce for Our Community. As, Successful Business Partners often do? We had disagreements. We also, had Joy. *Balance abxo."

She later added in subsequent tweets:
When your Trademark/Name & Companies, Create Jobs, Commerce... and, Joy. It deserves, the benefits of Truth and, Protection. I Come, in Peace... Drinking water & Always, minding, My *OWN (synonym) Businesses*. ABX

Live Nation, took Full responsibility. I Went on My Stage, at the appropriate time. Did my job without benefit of full production. I have Never, been in Concert, with my Friend Maxwell I *Did, my Job/Lifelong Profession. Your public statements are false

Another, Truth?... My company defended & Prevailed against the lawsuit filed, (Not by Babyface, but by his reps. at the time). Kenny, came to me YEARS ago, in the Spirit of Community & WE put It ALL, behind us. & came Together, in Love, Peace, Music & Community & 4giveness.
She concluded: "As Creators, in multi-billion dollar industries?... When, WE decide to put aside our differences. We can Invest our Energies/Light into Creating Jobs, Commerce & Community. Celebrate Each Other. Ok. Auntie, is done. abx."