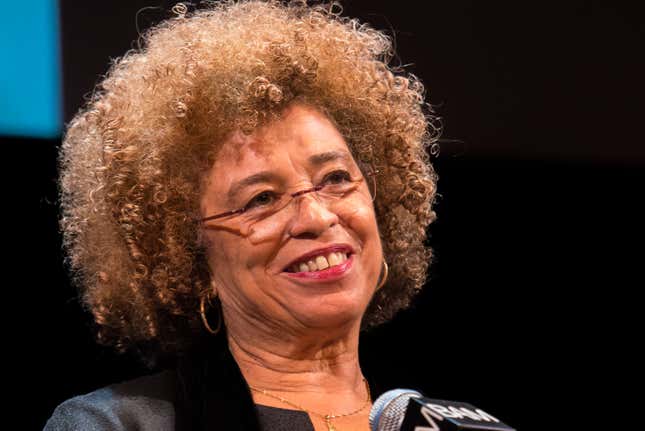 If you've ever watched PBS' Finding Your Roots, you know guests are often surprised by the information they learn about their ancestors. But in the latest episode of the hit series, activist and educator Angela Davis was completely blown away. The woman known by many as one of the most important figures of the Black Power Movement was shocked to learn that she has a direct biological connection to the Mayflower.

Oprah And Michelle Obama in The Light We Carry Is Our TV Pick This Week
You can see her reaction when host Henry Louis Gates Jr. drops the news on her in this clip:
Researchers determined that Davis' 10th great-grandfather was a man named William Brewster, who was one of the 101 people who came to America on the Mayflower. Pretty heavy that someone criticized as being unAmerican because of her activism is really about as American as they get, right? As Davis responded when she heard the news, "That's a little too much to deal with right now."
Davis didn't have much information about her maternal ancestors because her mother, Sallye Bell, grew up in a foster home. So she came to the show hoping to get answers. "I don't know if my sense of myself will change as a result of knowing more about her origin. But my mother was such a remarkable woman, and I would like to know the ingredients of that," Davis told host Henry Louis Gates Jr. in the episode. And while she wasn't able to complete the entire puzzle, she did fill in a lot of the missing pieces.
The Root spoke exclusively with Kimberly Morgan, the genealogist who researched Angela Davis' ancestors for the show, to learn more about her work and the challenges she often faces when trying to help Black people connect to their past.

For African Americans, it's not always easy to find your roots
According to Morgan, the Finding Your Roots researchers spend an average of 200 - 300 hours per guest looking for information about their ancestors. But even that may not be enough time to connect some of the dots for people of African descent. While marriage records, birth certificates and census data can help find European ancestors, there is rarely that same kind of paper trail for Black people.
"What you see on the show is a tiny fraction of the work that goes into getting the information together and fact-checking," she said. "African American research is typically more difficult because of the 1870 brick wall with respect to slavery. And because African Americans weren't considered human beings or treated as citizens, there isn't a solid paper trail," she said.
Although researchers were able to identify Davis' maternal grandfather as a white Alabama lawyer and legislator with ancestors who fought in the Revolutionary War, they were unsuccessful in finding information about her maternal grandmother – a fact that was disappointing to Davis and many viewers.
"We had some clues. But unfortunately, the matches at that time weren't good enough to positively identify her. We're hopeful that it will change as more people test. But we extended an extraordinary effort to identify her, and I took it as a personal mission to be able to do that. I really wanted to be able to do that for her," Morgan said.
Morgan points out that the roadblocks she hit while trying to find answers about Davis' relatives are not unusual for people of African descent. And while DNA can help fill in the blanks when there is no written documentation, there is less available DNA information for people of African descent.
"DNA is an incredible tool that has really revolutionized genealogical research. But the African American population is underrepresented in DNA testing. So, unfortunately, there just aren't as many matches to work with," she says.
But Morgan says that as more people test, the greater the chances researchers have of finding credible biological matches for African Americans.
But what about the conspiracy?
Morgan says she understands some may be hesitant to participate in DNA testing, and acknowledges that it is a deeply personal decision. But if you are interested, she recommends DNA Detectives, a Facebook group run by CeCe Moore, the DNA expert on Finding Your Roots. "It has a lot of information about DNA testing, how they use your information, and tips on how you can protect yourself in terms of privacy," she says.
She adds that if you are interested in learning more about the different branches on your family tree, DNA can break down the wall that may be standing between you and your ancestors.
In the episode Davis also learned more about her paternal ancestors, including her great-grandfather Isom Spencer. Spencer was freed at the end of the Civil War and successfully fought his former owner in court for custody of some of his nephews who were held as slaves. "This, I am so happy to see," Davis said.