Angela Bassett may have portrayed a voodoo queen in last season's American Horror Story: Coven, but there's definitely no magic being used when she seemingly defies aging. In a recent interview with the Violet Files, the 55-year-old actress revealed that although some may see her beauty when they look at her, she sees a "passionate woman who knows what she loves and has been blessed to be able to do it … and continue to do it."
Bassett's most recent role in AHS garnered her an Emmy nomination, and as a veteran actress, she's been in the business of Hollywood for over 20 years. For the newcomers, she offered a bit of sound advice.
"You have to study your craft," Bassett states.
From portraying Tina Turner to Betty Shabazz, Bassett's roles have epitomized strong characters, but a lot of work goes into making it look effortless.
"Actresses make it look easy because that's the way it should look—effortless," she continues. "When a great actor does their job they're leaving a piece of their soul in the room. It takes a little out of you, but that's OK."
"Life will take a little out of you, love will take a little out of you," she adds. "We're talking about demonstrating the best and worst of the human experience."
G/O Media may get a commission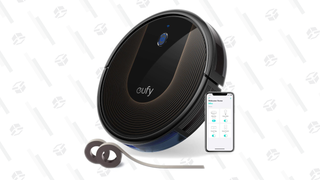 48% Off
Eufy BoostIQ RoboVac
Bassett, who is currently transitioning from actress to director on Whitney Houston's biopic, also gave insight into when she feels the most vulnerable.
"When I'm told I can't do something. When I'm told I'm not good enough, that I can't have something, can't go somewhere, especially because of the color of my skin," Bassett says.
Bassett's career definitely proves that she has staying power, and isn't afraid to tackle roles that highlight strong black women.  
Yesha Callahan is editor of The Grapevine and a staff writer at The Root. Follow her on Twitter.
Like The Root on Facebook. Follow us on Twitter.