"As long as I remember, it was all about being free," Caster Semenya tells Out magazine, reflecting on the passion that drives her world-class athletic career. "When I do sports is when I feel happy. I feel free."
And yet, the sports world has also been a fraught one for Semenya, who has endured scrutiny over her naturally elevated testosterone levels for almost the entirety of her career. After being lauded as one of the world's greatest athletes, the South African runner is currently at the center of an ongoing controversy which will ultimately determine whether she is forced to take testosterone suppressing medication in order to continue competing, a battle Out extensively chronicles in its cover story (a compelling read):
[I]n 2018, after leaving plenty of disgruntled co-competitors in the dust — and some in tears — the IAAF created a new policy: To compete, women athletes would have to sustain a testosterone level of 5 nmol/L or less, either naturally, or through hormone therapy. Adding insult to injury, the rule would only be enforced for the 400-meter, 800-meter, and 1500-meter women's races. Semenya was the clear target.
Compounding this is the extensive gender testing Semenya has had to endure (let alone the insults, speculation and ridicule). While Out notes that gender testing is common for women athletes (and mandatory in the Olympics between 1968 and 1992), equally notable is the fact that to date, such testing has only been required of women athletes, currently via cheek swab and pre-1968, via a gynecological exam.
"For Semenya, the inquiry was incredibly public," Out writes. "Through the eyes of many black South Africans, this kind of testing is reminiscent of the colonial objectification of black women's bodies. After all, Semenya was born during apartheid, during which racist tests were used to determine race—and therefore justify discrimination—against black people...disturbingly, some invasive apartheid-era racial tests involved inspecting the skin color around a person's genitals. It's no wonder news of Semenya's genital inspection conjured horrifying reminders of this history."
G/O Media may get a commission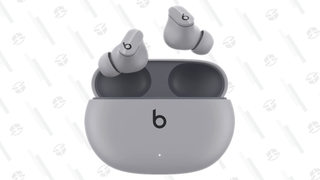 "It is not fair that I am told I must change," Semenya said in 2015. "It is not fair that people question who I am. I am Mokgadi Caster Semenya. I am a woman, and I am fast."
Fast, she is—and having been forced to stand up for herself and others like her, she is blazing a trail for female athletes to come.
"There's this long history of policing women's bodies, trying to draw bright and clear lines, based on these normative ideas of what women's bodies should look like and what sex traits they should have," Katrina Karkazis, a Yale University researcher tells Out. "They're women because they're being regulated. The fact that they're regulating her is because she's a woman. And then they're trying to police even further in the category about what is appropriate for a woman's body and performance."
For Semenya—fast, female, openly gay (and married to fellow South African runner Violet Raseboya)—her fight isn't just for her self and her own dignity and freedom, but for her country and her fans. "It's not about performing; it's about inspiring the world, changing the world…changing how people see life," Semenya later adds. "When I walk on the track is when I feel free."