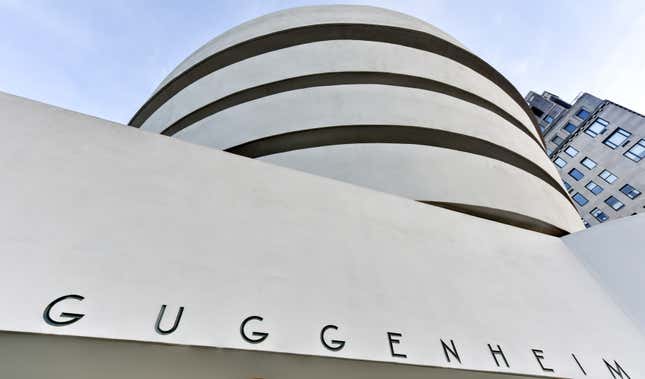 Eighty years after its inception, New York City's Guggenheim Museum has hired its first full-time black curator. Last week, Ashley James joined the famed museum as its new associate curator of contemporary art, after having been the assistant curator of contemporary art at the Brooklyn Museum, where the New York Times called her "a moving force behind the acclaimed exhibition 'Soul of a Nation: Art in the Age of Black Power.'" Due to earn a Ph.D. in English Literature, African-American Studies, and Women's, Gender and Sexuality Studies from Yale in 2020, James previously held posts at the Studio Museum in Harlem and Yale University Art Gallery, as well as a fellowship at New York City's Museum of Modern Art.
America's Got Talent Host, Terry Crews, Shows Full Gratitude For Writers On Strike
"Her work complements the Guggenheim's mission to present the art of today, which we understand as a deep and expansive view of art history," said Nancy Spector, the Guggenheim's artistic director and chief curator, in a statement obtained by the Times.
While the Guggenheim has worked with black curators and artist-curators at various (if all-too-rare) points in its decadeslong history, James is the first to hold a full-time position at the museum since its founding in 1939. While her appointment is, therefore, a cause for celebration, it notably comes after months of mounting tension with the first black female curator to organize a solo exhibition at the Guggenheim, 2019 Root 100 honoree Chaédria LaBouvier, whose poignant and provocative Jean-Michel Basquiat-inspired exhibit, "Defacement (The Death of Michael Stewart)" was one of the museum's star attractions this summer and fall, garnering both critical acclaim and lines of visitors to see Basquiat's work, alongside that of Andy Warhol, David Hammons, Keith Haring and more.
However, the historic achievement of LaBouvier—who, with the publication of the exhibition's catalog also became the first black author of a Guggenheim text—was bittersweet, to say the least. While a statement released by the museum claimed it was "proud to have presented the exhibition [of] Basquiat's "'Defacement': The Untold Story," curated by Chaédria LaBouvier based upon her original and groundbreaking research," the independent curator shared that for her, the experience was less than ideal. The issue came to a head earlier this month, when LaBouvier publicly confronted the Guggenheim during a panel discussion on her exhibit that she was inexplicably not invited to join.
Per the Times:
Speaking up recently at a museum panel discussion, Ms. LaBouvier, who is black, accused the Guggenheim of snubbing her and undermining her curatorial role by, among other things, not inviting her to participate in the Guggenheim's panel discussion about Basquiat with other scholars who had contributed to her own catalog. Last summer she told The New York Times that she was cut out of other decisions on how the exhibition was to be presented and that her research had been shortchanged.
That the appointment of James—an obviously accomplished and talented curator in her own right—should be announced amid accusations of racially- or misogynoir-fueled tension is unfortunate, as it threatens to be perceived as a remedial gesture rather than the deserved (and long overdue) placement of a black talent among the Guggenheim's cadre of decisionmakers. It's worth noting that there has been no information shared on how long the process of recruiting and hiring James took (it has quite possibly been many months in the making), but the cringingly convenient timing of the Guggenheim's announcement wasn't lost on LaBouvier, who on Sunday called out the museum and chief curator Spector in an Instagram post:
Anyone with two eyes can see what the #Guggenheim is attempting to do. It's so suspicious to everyone — and to news outlets that have called it out, thank you. We know what this is about.

It's about attempting to erase a historical record b/c it's embarrassing that the Guggenheim didn't entrust a Black person to curate and helm an exhibition until 2019. It's about pitting two Black women against one another and asking a newly hired curator to do your harmful work of retaliation, revision and PR [against] the Black woman that opened the door. It's about the White woman and the institution that enables her, to hide behind that chaos and discord, that the public forgets this shameful chapter in Guggenheim history. This is also about stealing joy and my moment as I come off a super successful Basquiat exhibition. Lol, an old colonial playbook. We know what this is about. We won't allow for that. The North remembers.

I'm lucky that I have a tribe, a family, community, an audience and a God that don't like ugly and have called it out. I play the long game and for keeps. History is what it is. There's no need to curse the darkness when you are the light, a light that has shone the way forward.

LaBouvier could not be reached by The Root for comment, but via a statement printed by the Times, new appointee James expressed her feelings over her new position—if not the controversy that preceded it.
"I am eager to begin work with my colleagues to develop new research, explore new ideas for exhibitions, programs and publications, and continue to expand and shape such a vital collection," said James.