Aretha Franklin was a national treasure. A gift. An icon. When Aretha Franklin passed, the world unequivocally lost one of the best voices of all time.

With 18 Grammys, including a Lifetime Achievement Award, and an induction into the Rock and Roll Hall of Fame—why wouldn't we genuflect when one calls on the queen's name?
But with all of her praises and accolades, Aretha Franklin, her soul—the very essence of what made queen-mother Aretha's being—never left the church. And this ever-present connection to her Higher Power made for a cinematic blessing: Amazing Grace.
In under two hours, filmmakers took audiences back to 1972 to the New Temple Missionary Baptist Church in Watts, Los Angeles—the very place where Aretha Franklin's gospel album, Amazing Grace, was recorded. Amazing Grace is to date the best selling gospel album, ever, but actually seeing Aretha Franklin perform the gospel songs which comprised said album is in-and-of-itself a spiritual experience.
The film starts with behind the scenes footage: Primping and sound checking—you know, standard preparation for a concert. But when Aretha Franklin sashays down the church aisle in a gown and heads straight to the pulpit, then the movie begins.
G/O Media may get a commission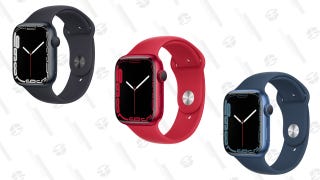 Up To $45 Off
Apple Watch Series 7
The Sydney Pollack-directed documentary chronicles Franklin rehearsing, and performing favorites like "Mary Don't you Weep," "Amazing Grace" and "Precious Memories." The Reverend Dr. James Cleveland plays the piano (and at times kee-kees with the crowd), while his Southern California Community Choir backs the queen in song. The congregants watch on reverently clapping, shouting and catching the holy ghost (no black church film is complete without the holy ghost being present and accounted for) as the Queen of Soul provides evidence in how she earned her name.
Franklin's love and faith were palpable—devotion was present in the tenor of her voice, infused in every note that she sang. Audience members cried. I cried.
The campaign for the Amazing Grace film started this year, on Franklin's Birthday, and it has already won an NAACP Award for Outstanding Documentary.
Ahead of the film's New York City screening music mogul and close friend, Clive Davis, spoke. While Davis always knew that the film that came to be Amazing Grace existed, he never discussed it with Franklin. It was a bit of a touchy topic.
"She and I never talked about [Amazing Grace]. It was somewhat of a sensitive subject," Davis said. He continued, "It was not that she saw it and objected at all to the quality of it. This was more a matter, I suspect, of economic differences of opinion."
Indeed there's a bit of baggage attached to the film.
Amazing Grace was set to release in 1972 on a double bill with Super Fly. Not so fast: Director Sydney Pollack forgot to use a clapper to sync the audio and video at each take (messy move). Rather than being released in 1972, the footage sat in Warner Bros. vault, collecting dust for decades.
In 2008, former music producer Alan Elliott got rights to the footage (after Pollack's death), but he didn't have 'Re's permission to use the footage (though the Times reported that Franklin "loved" what she saw). So that was that—until Aretha Franklin passed and her estate approved the film.
Now after nearly five decades, Amazing Grace gets to see the light of day.
"[Amazing Grace] not only shows the greatest voice of our lifetime, at the peak of her awesome ability to vocalize, to feel, obviously in a way that was unique to her—there was no one like Aretha. So I envy you for those seeing this film for the first time. All I know is you'll never forget it" said Clive Davis, finally.

Let the church say amen.
Amazing Grace is playing in select cities.