(The Root) —
"My cousin on my mom's side of the family has done extensive research on our family background. From what she has obtained thus far, it appears as if my mom's family are descendants of Gen. Braxton Bragg (Fort Bragg is named after him). There have been a few challenges trying to see all of the court paperwork to prove it. However, my great-great-great-grandfather lived on the Bragg plantation, and his first name was Tom. Additional information: Thomas Bragg, a homebuilder in Warrenton, N.C., was born May 5, 1778, and died Jan. 31, 1851. He married Margaret Crossland on Dec. 20, 1803, in Warren County, N.C. I also need to find out more about slave Sallie Bragg.
"I'm also looking for information about Frederick William Harrison, M.D., a graduate of the University of North Carolina in 1824 or 1825. He just disappeared until his will in 1863 in Brunswick County, Va." —Gazelle Williams
As you state, Braxton Bragg (1817-1876) was a Confederate general during the U.S. Civil War who is seen by many historians as having been instrumental in the Confederacy's failure in the West. A former U.S. military officer and a North Carolina native, he married Eliza (Elise) Brooks Ellis, a Louisianan who historian Judith Lee Haddock describes as the daughter of a wealthy sugar planter. Using her money, Braxton was also a successful sugar planter in Louisiana who owned more than 100 slaves (pdf).
You state that over the course of your family's research, there have been some difficulties in viewing all of the court paperwork on the Bragg family. You don't specify which types of records have been problematic, but there are a few alternative ways to locate court documents that may be of help in your research. The State Archives of North Carolina have several items pertaining to the Bragg family in their manuscript collection. We located a catalog entry in the Manuscript and Archives Reference System for the will of Thomas Bragg Sr., dated 1851 (call No. WB-5/94).
According to the research notes you provided, Thomas Bragg of Warrenton, N.C., died on Jan. 31, 1851, so it is possible that this document pertains to a member of the Bragg family you are researching. Other documents related to the Bragg family listed in the archives' catalog include several deeds, as well as the papers of Braxton Bragg and his brother, Thomas Bragg. We suggest that you contact the archives to learn more about their manuscript collection.
G/O Media may get a commission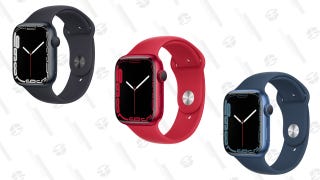 Up To $45 Off
Apple Watch Series 7
The Church of Jesus Christ of Latter-day Saints also has a number of databases available on its website, including North Carolina, Probate Records, 1735-1970. If you have been unable to locate probate documents for certain members of the Bragg family, we suggest that you search this database for Warren County. The database contains digital images of these probate documents.
Town, county and state histories are another valuable resource for conducting genealogical research. In an email you cited The County of Warren North Carolina, 1586-1917 as one source used in previous research. Other books that may help you learn more about the Bragg family include Lives of Distinguished North Carolinians, by William Joseph Peele; Biographical History of North Carolina, From Colonial Times to the Present, edited by Samuel A. Ashe et al.; and Sketches of Old Warrenton, North Carolina: Traditions and Reminiscences of the Town and People Who Made It. A number of books are also available online through sites like Google Books, as well as through interlibrary loan with your local library.
In addition to local and state histories, newspapers oftentimes provide detailed information about a town and its residents. There are a number of free and subscription newspaper databases available online, such as Genealogy Bank and Chronicling America: Historic American Newspapers. The State Archives of North Carolina also have several North Carolina newspapers available online, some of which date back to the 1750s.
Your family believes that Sallie Bragg, born circa 1795, may have been the mother of Thomas Bragg. You note that a 95-year-old woman named Sallie Bragg is listed in the household of John Eades in the 1870 U.S. federal census for Warrenton, but you are unsure if this individual is connected to Thomas Bragg. She is not listed with the Eades family in the 1860 census, but an 85-year-old female slave is listed in the 1860 U.S. Federal Census Slave Schedule for David B. Bragg of Lunenburg County, Va.
We checked the North Carolina Marriage Collection, 1741-2004, database, available at Ancestry.com, for the marriage of John Eades to determine if the maiden name of his wife, Susan, was "Bragg." We located a listing for the marriage of John Eades and Susannah Wilson in Warren County on Oct. 10, 1852. It is possible that the Eades or Wilson family had a connection to the Bragg family, so we recommend that you take a closer look at the family of John and Susannah (Wilson) Eades.
When you're reviewing deed and probate records for members of the Bragg family in Warren County, take note of other names listed on these records, including witnesses, to determine if any transactions took place with individuals named Eades or Wilson. Doing so may help you trace Sallie Bragg's location before she lived with John Eades.
We also recommend that you search the 1850 and 1860 U.S. Federal Census Slave Schedules to see if an individual named Eades or Wilson of Warren County owned a female slave born circa 1795, which could be a match to Sallie Bragg. If you locate a match, we recommend that you search for probate records pertaining to that individual in order to determine if a slave named Sallie is mentioned in the document as part of his or her estate.
You note that you would also like to obtain more information about Dr. Frederick William Harrison. You write that he was a graduate of the University of North Carolina around 1824-1825, but you have very little information about him from that time period until his 1863 will in Brunswick County.
We performed a quick search and located several sources that may be of interest to you. One collection, housed at the University of North Carolina's Louis Round Wilson Special Collections Library, is the Thomas Williamson Jones Letters, 1808-1836 (collection No. 03684-z). Jones graduated from the University of North Carolina in 1810 and practiced medicine in Brunswick County. The letters in this collection were mainly written by Jones' family members, but some of the letters were from students at UNC, including two letters from Frederick William Harrison, dated March 3, 1823, and April 10, 1824. A digitized version of Harrison's April 10, 1824, letter is available online.
In Kemp B. Battle's History of the University of North Carolina, From its Beginning to the Death of President Swain, 1789-1868, we located an alumni listing for Frederick William Harrison of the Class of 1825. His residence is listed as Eastville, Va., which is located in Northampton County. We also located a reference to Dr. Frederick William Harrison in an article by Henry W. Lewis titled "The Dugger-Dromgoole Duel," which was published in the July 1957 issue of the North Carolina Historical Review.
A duel took place in Virginia in November 1837 between Daniel Dugger and George C. Drumgoole. According to this article, on the night before the duel took place, Dr. Frederick W. Harrison sent Dr. W.W. Wilkins a note to meet with him. Harrison was to accompany George Drumgoole to the duel, but he learned that Dugger did not bring a physician with him. Harrison knew that Wilkins was acquainted with Dugger, and asked that he speak with Dugger about the matter. Wilkins tried to dissuade them from dueling but was unsuccessful. Doctors Harrison and Wilkins attended the duel and provided medical care to Dugger after he was shot, but he died a few weeks later from his wounds. It is noted in this article that Harrison resided in Eastville.
With this new information regarding Harrison's residence, there are several sources you can check for additional documentation. The Church of Jesus Christ of Latter-day Saints' Family History Library has a number of records available on microfilm, including land records and tax lists for Northampton County, Va. These microfilm reels are available for rental through your local Family History Center or library.
If you have not done so in previous research, we suggest that you check the 1830-through-1860 U.S. federal censuses for Frederick W. Harrison. With this new information, you will be able to narrow your search to Northampton and Brunswick counties. In addition to the census records, we suggest also checking the U.S. Census Slave Schedules for listings related to Frederick William Harrison. As a doctor, he may have had the means to own slaves. Since you are now able to place him in Northampton County prior to his residing in Brunswick County, we suggest that you check local newspapers, as well as town and county histories, for additional information about Harrison.
Henry Louis Gates Jr. is the Alphonse Fletcher University Professor and the director of the W.E.B. Du Bois Institute for African and African-American Research at Harvard University. He is also editor-in-chief of The Root. Follow him on Twitter.
Send your questions about tracing your own roots to TracingYourRoots@theroot.com.
This answer was provided in consultation Kyle Hurst, a researcher from New England Historic Genealogical Society. Founded in 1845, NEHGS is the country's leading nonprofit resource for family history research. Its website, AmericanAncestors.org, contains more than 300 million searchable records for research in New England, New York and beyond. With the leading experts in the field, NEHGS staff can provide assistance and guidance for questions in most research areas. They can also be hired to conduct research on your family. Learn more today.
Like The Root on Facebook. Follow us on Twitter.