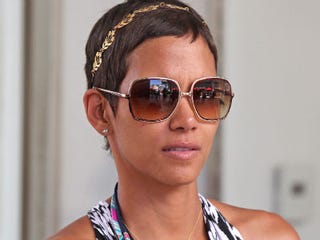 The man who was accused of stalking Halle Berry last month has been charged with burglary for breaking into her guesthouse earlier this month, the Associated Press reports. Richard A. Franco now faces two felonies related to the three mid-July incidents in which he was caught on her property. In a Wednesday court appearance in Los Angeles, he pleaded not guilty to the additional charge.
In court filings, Berry has stated that she is "extremely frightened" of him. She says he nearly gained entry into her kitchen before she was able to lock the door. She has restraining orders against Franco in case he is released.
He has also pleaded not guilty to stalking the actress.
We all love Halle, but she can very easily be found on magazine covers, in commercials, in movies and on our TV screens. There's really no need to show up uninvited in her kitchen or guesthouse. Hopefully another felony charge will help Franco get that message. 
Read more at USA Today.
In other news: VIDEO: Senate Greeted With 'Welcome Terrorists.'