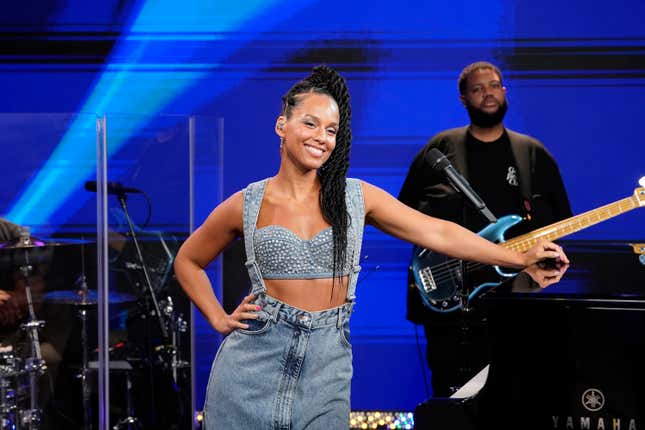 Alicia Keys and Swizz Beatz's baby boy, Genesis, is not playing games with his mama's fans.

Comedian London Hughes Talks New Book, Parents Watching Her Very Sexual Comedy, & Beyoncé
On Sunday, July 30, Genesis posted up like a bodyguard onstage for his mother during her Keys to the Summer tour stop in Seattle, Washington. This summer, musicians from Lil Nas X to Bebe Rexha have been dodging items being thrown on stage, with some of the instances resulting in injuries.
Swizz Beatz posted on Instagram a picture of his protective son with a serious face and his hands in his pockets typing, "He heard how people been acting at shows lately. My boy serious in real life." Keys and Beatz have two children together. Their older son, Egypt, is 12 years old.
This isn't the first time that Genesis wanted to be his mother's right-hand man. In a Youtube video posted by Keys on July 28, 2023, the "No One" singer shows the behind-the-scenes of her getting ready for her New York stop on the tour. However, one of the wardrobe choices was not up to Genesis' standards, as his mother was trying on nipple pasties underneath a sheer crop top.
Once she showed off the outfit he said, "Are we really gonna do this Mom? So everyone can see your boobs?" To which the "Fallin'" singer responds, "They can't, they just see the heart." She goes on to attempt to ease his mind by showing him that raising her arm won't show anything inappropriate, just a heart-shaped sticker across her chest. Unfortunately for her, he still wasn't having it. Instead, he hilariously suggested she keep her arms down and do a stomp clap. The conversation wraps up with a short lesson to her son saying, "It's not a big deal. It's boobs, everybody has boobs."

Uh oh, Alicia, looks like you have a new super cute but uber-opinionated bodyguard and stage manager.