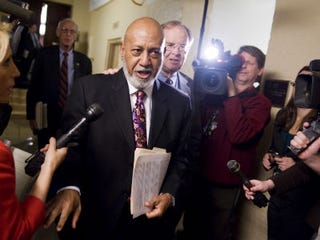 A congressional ethics panel is looking into claims that Rep. Alcee Hastings (D-Fla.) sexually harassed one of his staff members, the Wall Street Journal reports.
The investigation comes on the heels of a lawsuit filed by Winsome Packer alleging Hastings made repeated unwanted sexual advances and threatened her job when she refused him. Packer is being represented by the conservative legal group Judicial Watch.
Hastings called the claims "ludicrous."
"I have never sexually harassed anyone," the representative said in a statement sent to the AP. "In fact, I am insulted that these ludicrous allegations are being made against me … I will win this lawsuit."
It goes without saying that it will be a shame and a disappointment if the claims are true. Until we find out, every finger and toe at The Root is crossed, hoping the alleged advances didn't come in the form of humiliating Rep. Weiner-esque photos. We just can't take it.
Read more at the Wall Street Journal and the Huffington Post.
In other news: Sean Kingston Released From Hospital.
Like The Root on Facebook. Follow us on Twitter.