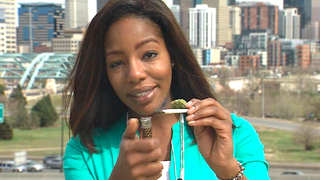 Charlo Greene, the Alaska reporter who stunned viewers when she abruptly quit her job on air to devote her time to marijuana advocacy, is probably not going to win any employee-of-the-month awards, and she apparently isn't neighbor of the year, either.
According to the New York Daily News, an Alaska father filed a restraining order against Greene, who was his neighbor, because his 4-year-old daughter got sick from Greene's medical marijuana as the smoke seeped into their apartment.
Tyler Gilbrech, the father in question, spoke to Greene about her habits, but she allegedly threatened him and told him to "watch his back," the Daily News reports.
Gilbrech eventually took out a restraining order against Greene to try to curb the escalating back-and-forth. The family now lives elsewhere.
Greene, for her part, said she never interfered with Gilbrech, and said that he called her racial slurs.
Read more at the New York Daily News.