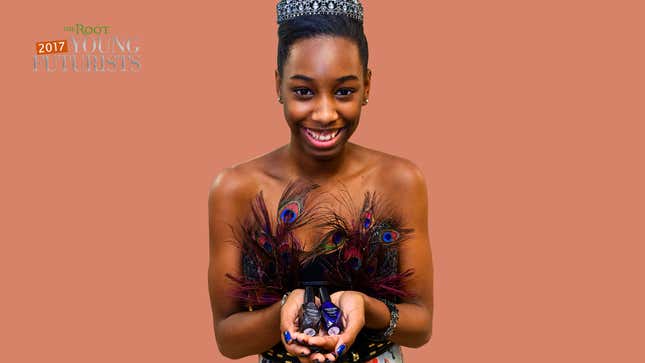 Alanna Wall is determined to add a little polish and sparkle to the lives of hospitalized children and girls with special needs. Alanna founded Polished Girlz when she was just 10 years old after being turned down for several volunteer organizations because she was too young.

My Hip-Hop Story: Cedric The Entertainer On Jay-Z and His Indisputable Role In Shaping The Genre's Culture
Inspired by her love of drawing and cool nail art, Alanna started going to local hospitals to paint nails after her mother, a nurse, told Alanna how much she loved helping other people. With Polished Girlz, Alanna and more than 900 volunteers have hosted nail-art parties for more than 17,000 clients in 33 states and in Canada and Mexico. The nonprofit organization hopes to bring a little happiness to kids in need.

CATEGORY: Enterprise/Corporate Innovation
AGE: 16
HOMETOWN: Dayton, Ohio
EDUCATION: Stivers School for the Arts
SOCIAL MEDIA: Twitter, Facebook, Instagram
"When nurses call me to polish kids during their first chemotherapy session, or when parents contact me to polish their terminal children, I know that I am using my talents to give them a piece of comfort," she told The Root.
In 2016, Polished Girlz hosted its second annual ball, at which the organization raised more than $40,000 for a homeless shelter in California. Alanna was also selected as a Disney Dreamer and a Coca-Cola Pay It Forward honoree. In February, she attended New York Fashion Week, where for the past three years, she has polished nails for fashion designers. In 2013, Alanna appeared on Ellen, and received nail polish, manicure supplies and a $10,000 check from Cover Girl. In 2014, she was honored by Nickelodeon with the HALO Award, which recognizes teens making a difference in their communities.

When she's not hosting manicure parties, Alanna spends her time playing the violin in her school's philharmonic orchestra. She's already looking forward to college—her dream school is Princeton University—and she hopes to one day be a veterinarian.