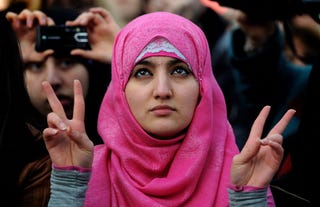 As Egyptians celebrate the end of Mubarak's 30-year reign, Nicolaus Mills, a professor at Sarah Lawrence College, remembers the Selma-to-Montgomery march in 1965. In this essay, he talks about the power of nonviolent protests when demanding change.
As I watched the television footage of demonstrators in Cairo's Tahrir Square make the decision to reduce the violence going on around them by sitting down in the street when word came that thugs from the Mubarak regime were on the way to break up their rally, I was reminded of how it felt in the spring of 1965 to be part of the Selma-to-Montgomery civil rights march.
What we are witnessing in Egypt should not seem strange to Americans. For it is nothing less than Egypt's version of the kind of protest that permanently changed our way of life more than 45 years ago.
Read the rest of the story at CNN.
In other news: Beauty and Brains: Tyra Banks to Attend Harvard Business School?