Paris: French President François Hollande gave a stirring speech about diversity this week. The topic would hardly raise an eyebrow in the U.S., but it's a rare occurrence in France, which has struggled to integrate immigrants from North and West Africa into its ideal of the colorblind republic. 
He spoke at the solemn funeral service for three police officers killed in the terrorist attacks on Charlie Hebdo, a satirical weekly, and a kosher grocery in Paris that left 17 dead and the country badly shaken. Hollande noted that one police officer was of Algerian origin, one was a black woman from Martinique and a third was from a white French family—but that they all died serving their country.
On Thursday Lassana Bathily, a 24-year-old Muslim immigrant from Mali who hid customers in a cold locker of the kosher store, was fast-tracked toward citizenship after Interior Minister Bernard Cazeneuve cited his "act of bravery." A Change.org petition to grant him both citizenship and the Legion of Honor had collected more than 300,000 signatures.
The praise directed at black and Muslim Frenchmen in the aftermath of the terror attacks was well-deserved but was also an attempt to pre-empt a possible Islamophobic or racist backlash. In the aftermath of the killings, many of the radio and TV talk shows here have focused on fears that France may harbor sleeper cells of homegrown jihadis. Saïd and Cherif Kouachi, who killed 12 people in the Charlie Hebdo attack, were of Algerian origin; Amedy Coulibaly, who murdered the black policewoman on the street and four Jews at the store a day later, was of African descent. The three attackers were all born in France and had lived in the tough banlieues (suburbs) of Paris. An estimated 5 million Muslims live in France, including many blacks with roots in the former French colonies, including Mali, Senegal, Guinea and Côte d'Ivoire.  
Last Sunday's massive marches—3.7 million in Paris and other French cities—were an impressive show of support for free expression and unity against terror, but opinion was hardly unanimous. School officials reported more than 200 incidents in which students refused to show sympathy for the victims because of views that Charlie Hebdo had blasphemed the Prophet Muhammad. And controversial black comedian Dieudonné M'bala M'bala was arrested on suspicion of supporting terrorism after he appropriated the "I am Charlie" slogan and tweeted "I feel like Charlie Coulibaly." In the past, his popular shows have been canceled and he has been repeatedly fined for anti-Semitic hate speech.
G/O Media may get a commission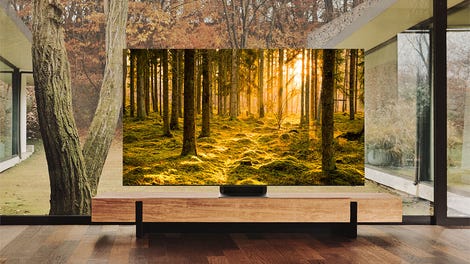 Up to 40% off
Samsung Smart TVs
Most of the dissent was in the banlieues, where alienation runs deep and promises to improve conditions after sporadic unrest always fade away. By law, France does not collect statistics based on race and ethnicity. But job and housing discrimination is widespread, and many young blacks and Arabs see a bleak future in France—leaving some ripe for radical Muslim preachers.
With unemployment at 10 percent, the French have been open to arguments that blame immigrants. Eric Zemmour's The French Suicide, claiming that France is losing its identity in a sea of foreigners, has been a best-seller despite a long list of factual inaccuracies. Michel Houellebecq's Submission imagines a Muslim president who imposes the veil on French women and legalizes polygamy. In the novel, the Muslim candidate wins because he is the only alternative to Marine Le Pen, who leads the right-wing National Front.
If a presidential election were held today, Le Pen—who has railed against immigration and wants France to quit the European Union—could force a runoff, according to polls. But there won't be a Muslim or black opponent. After President Barack Obama won the White House in 2008, a leading French weekly ran a plaintive headline, "Where Is Our Obama?" Six years later, there still isn't one in sight.
In terms of racial progress, France looks more like the U.S. in the 1950s—minus enforced segregation—than America today. This is a much less open society than in the U.S. Elite circles are tight, and even the right credentials can fail to open the doors for outsiders. The most visible minorities are entertainers and athletes: Omar Sy, the first black actor to win a French Oscar just two years ago; Jamel Debbouze, a comedian and actor of Moroccan origin; World Cup star-turned-activist Lilian Thuram; and tennis player Gaël Monfils.
Few blacks or Arabs hold national leadership positions or serve as prominent spokespeople. Just nine of the 577 members of the National Assembly are nonwhite, and just one black member is elected from a mainland constituency; others represent overseas "departments" like Guadeloupe, Martinique and Réunion. It wasn't until 2006 that the first black anchor appeared on TV after a concerted campaign.
The most powerful black politician in France right now is Justice Minister Christiane Taubira, a native of French Guiana who shepherded passage of a law allowing gay marriage. A woman with strong leftist views, she has been on the margins of the debate about stronger security measures and longer prison terms for supporting terrorism. But any efforts to address the root causes of unrest may be overrun by fear and the rush to "get tough" with those "dangerous" youths who live on the edges of this glittering city.
Joel Dreyfuss, former managing editor of The Root, lives in Paris, where he is writing a book about his family's 300-year involvement with Haiti.