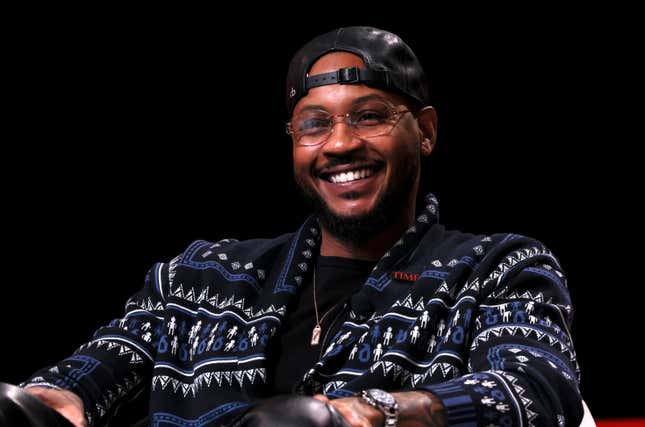 One of the most entertaining and popular NBA players for over a decade has finally decided to call it a career. In a video posted to social media on Monday, Carmelo Anthony announced his retirement, saying, "the time has come for me to say goodbye." In the clip, the 10-time NBA all-star discusses his love of basketball, calling the decision "bittersweet." He also noted that he is ready to pass the baton to his son, Kiyan Anthony, a talented 16-year-old who has already received offers to play college basketball for Indiana; Illinois; Memphis; Providence; Seton Hall; Syracuse; and Tennessee.

You Okay Fam?: Should You See A Therapist Without Having A Problem?
"I remember the days when I had nothing. Just a ball on the court and the dream of something more. But basketball was my outlet. My purpose was strong. My communities, the cities I represented with pride, and the fans that supported me along the way. I am forever grateful for those people and places because they made me, Carmelo Anthony," he said. "But now the time has come for me to say goodbye to the court where I made my name, to the game that gave me purpose and pride. But this bittersweet goodbye to the NBA, I'm excited about what the future holds for me. When people ask what I believe my legacy is, it's not my feats on the court that come to mind. Nor the awards or praise. My story has always been more than basketball. My legacy, my son, is in you. I will forever continue through you. The time has come for you to carry this torch. So [Kiyan], chase your dreams, let nothing hold you back, let nothing intervene. My legacy, now and forever, lives on through you. And I will always be proud. Peace."
During his 19 seasons, Melo played for the Denver Nuggets; New York Knicks; Oklahoma City Thunder; Houston Rockets; Portland Trail Blazers; and Los Angeles Lakers. He spent most of his career with Denver and New York, so those are the teams he's most closely associated with. Though he never won an NBA championship, he won three Olympic gold medals, leading to the nickname "Olympics Melo." He also led Syracuse to an NCAA championship in 2003 and was named one of the 75 greatest players in NBA history. Anthony is well-respected among his peers, so it's no surprise that he received congratulatory messages from around the league.