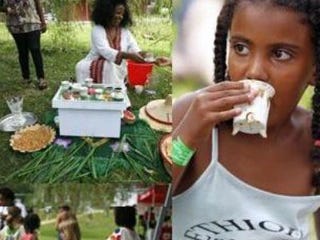 At the Ethiopian Heritage and Culture Camp in Virginia's Shenandoah Mountains, some of the 2,500 Ethiopian children adopted by American families each year get to experience the food, dance and clothing of their native country. The Washington Post reports that the camp satisfied a huge demand for information about the country among adoptive parents, and it's a hit with the kids, too:
Suri Phillips, 9, who left Ethiopia for Annapolis three years ago, was thrilled by the camp. "I don't see brown people very often where I live. And now, I see all these other kids and families that look like mine," Suri said. "I know I'm not alone. It's not just me."
Suri met dozens of other kids and learned to shoulder-dance at the culture camp, where about 60 other families took classes in Amharic and Ethiopian etiquette, music and cooking. It's the third year they've done this, and the camp has grown bigger each time, as adoptions from Ethiopia have soared.
"We thought it was important for us to learn about our daughter's culture and help her maintain that identity," said Mark Boucher, who came to the camp from Albany, N.Y., with his family of four, including Lidia, the 7-year-old girl they adopted three years ago.
The heritage camp is the brainchild of Mekdes Bekele, a native of Ethiopia who was struggling to raise a bicultural child in the land of the Big Mac and Nintendo and discovered that white adoptive families were having an even tougher time.
Read more at the Washington Post.
In other news: VIDEO: Senate Greeted With 'Welcome Terrorists.'