Karen Pittman is an actress whose star is on the rise. She is currently burning up the Broadway stage in Ayad Akhtar's Pulitzer Prize-winning play Disgraced.
The play examines the precariousness of power, identity, prestige and race relations in contemporary New York City. The brave narrative tackles subjects like Islamophobia, cultural appropriation, and interracial personal and professional relationships in a way that mirrors the cultural tension always at play in a metropolis known as the greatest city in the world.
Pittman brilliantly plays the role of Jory, a successful African-American lawyer, married to Isaac (Josh Radnor) a Jewish art dealer at the center of a conflict between married couple Amir (Hari Dhillon), a powerful Muslim-American attorney, and Emily (Gretchen Mol), a hopeful white artist. The fireworks that happen at Amir and Emily's dinner party make Guess Who's Coming to Dinner look like a sitcom.
Pittman more than holds her own alongside the all-star cast, giving viewers a glimpse into the personal and artistic journey that has prepared Pittman to seize the moment. The Northwestern and New York University theater graduate's work extends beyond the stage to television, where she has guest-starred on the FX hit The Americans, as well as on The Blacklist, The Good Wife, White Collar and House of Cards.
G/O Media may get a commission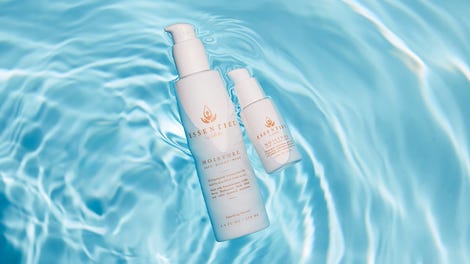 20% off
Essentiel by Adele
The Root caught up with the doting mother of two at the Lyceum Theatre to chat about her star-making turn in Disgraced.
The Root: Were you worried about the controversial subject matter with Disgraced?
Karen Pittman: I wasn't afraid for me. I was and still am concerned for Ayad, for the playwright. What has opened up to me through doing this play has been access to this incredible Muslim-American cultural-elite community. In many ways, they have the same challenges that any culture has in America—African Americans, Jewish Americans. Ayad's work makes us ask the question, "What are the stories that are OK for us to tell?"
It seems that the effects of asking that question in the context of the play is much more impactful globally, and it feels a little dangerous. It's mainly my perception of it, but I'm more concerned for Ayad—his obligations to tell the stories of his community—because he's looking at a global conversation about Islam and it's an internal conversation being had publicly.
As African Americans, culturally, we haven't had that conversation. We're still talking about how the white man pulls us down in society, but we have yet to have an honest conversation about how we pull ourselves down. Why we can't keep our families together. Why our men hit us. Why we hit each other. Why we don't wear any clothes.
Why are we on the pole? Why do we let our daughters on the pole? Why are The Real Housewives of Atlanta still on TV? Why are the rappers still saying horrible things about women and we still buy their music? Why does R. Kelly still have a job? You're calling out Ray Rice, and last night your man pushed you down on the floor.
I wasn't scared of Disgraced because I do think that Ayad is brave enough to have a conversation about the internal issues that his community has and how they look at women, how they look at themselves. I would love for us as African Americans to have that conversation.
TR: What's your theme music? How do you prepare for your role? How do you get ready?
KP: I come from a musician's background. I do a lot of vocal exercises. I run every day. I meditate. I listen to a lot of podcasts that help you stay focused. For me it's like a mental game—like an athlete. Believe it or not, I read about Kobe Bryant, Derek Jeter. The biographies of professional athletes are very powerful to me because the kind of focus you need to be an athlete is really the kind of focus you need to be great at any level of acting. Ninety-eight percent of my work is in my body. It is constantly informing me in a new way.
I listen a lot to Jay Z. "Somewhere in America" is a shoutout to old-school rules, which is essentially Amir's speech to me about coming to join him in this law firm. I listen to "Picasso, Baby," because I feel like some of the character of Isaac is in that song. I listen to "Crown," which speaks to African Americans who have enjoyed some type of material success. We're not looking to be average or consumers. We're looking to be owners and producers. That's the kind of life that Jory wants, that Jory has in the play. We're looking for 1 percent.
TR: What do you prefer working on: television, film or the stage?
KP: I like it all. I like to work with great collaborators. I like to work with people who are interested in doing something different; artists that create real people on stage, real lives, tell real stories. However that's done, it doesn't matter to me if it's television, film or stage. I will say that stage and film are two of my favorite places to live because I can live with a character a good, long time.
Having said that, my experience on The Americans has been like working on a film. You do get the opportunity to sit with the script; the people on set, the director, the producers are very encouraging, as if you were on a film set or in a theater, and they have a great respect for what you do, what you need. That's optimal.
TR: Why did you decide to do Disgraced?
KP: It's an amazing story. There aren't enough African Americans on the stage on Broadway that really reflect who we are as human beings in the 21st century. There are a lot of black women like Jory in the world, and we rarely see her in this way. I really hope that this play will bring in the idea that we can have a more diverse representation of American society. American culture, our socioeconomic makeup, looks a lot like what Ayad has put on this stage.
Editor's note: Disgraced runs at the Lyceum Theatre in New York City through March 1.
Nsenga K. Burton, Ph.D., a media scholar, is digital editor in chief at Grady Newsource and a faculty member of the Cox Institute of Journalism, Innovation, Management & Leadership at the Grady College of Journalism and Mass Communication at the University of Georgia. She is founder and editor in chief of the award-winning news blog the Burton Wire. Follow her on Twitter here or here.