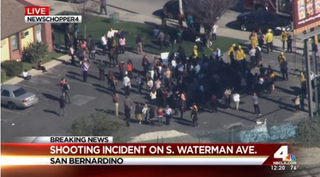 Authorities are responding to an "active shooter" situation in San Bernardino, Calif., involving up to three suspects that has left at least 12 people dead and multiple injuries, NBC Los Angeles reports. 
The shooting was reported inside a social center—the Inland Regional Center—that serves people with developmental disabilities, the report notes, according to the local Fire Department. Inland serves more than 31,000 people currently in San Bernardino County and its neighbor, Riverside County, the site notes.
Officers "confirmed an active shooter in the area," and anywhere from one to three people are currently suspected to be involved. A tweet from the San Bernardino Fire Department said that 20 victims had been reported so far. 
Multiple agencies are assisting at the scene, including the FBI and the Bureau of Alcohol, Tobacco, Firearms and Explosives.
Read more at NBC Los Angeles.