It seems as if accused murderer and ex-NFL player Aaron Hernandez is enjoying his prison life, as he awaits trial for the killing of semi-pro football player Odin Lloyd.
In a letter to a male pen pal Hernandez wrote that he was eager to start his trial and "prove his innocence," but also said his time at Bristol County House of Corrections hasn't been "so bad."
"I'm way less stressed in jail than when I was out of jail," Hernandez wrote in the letter (pdf), a copy of which was obtained by TMZ. "I'm just anxious to go to trial to see what's up and prove my innocence. Regardless, I'll be good, but I know I'll be free because I'm truly innocent and will prove it!"
Hernandez told his pen pal about his daily activities, claiming to be brushing up on his reading and getting in some "jail workouts."
"I'm using this time to become stronger, wiser and trying to come out, when I come home, way more intelligent, which I will!" Hernandez wrote, saying he had read about 25 books since being imprisoned.
G/O Media may get a commission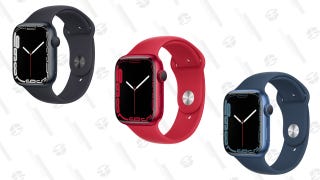 Up To $45 Off
Apple Watch Series 7
"It's not that bad, honestly," he added. "'I'm just hoping I am out within these next few years, to get a chance to ball again, if not, I'm still straight! I'm still getting it daily in here, that's a given!"
Read more at TMZ.