*Sung in Tony! Toni! Toné! harmony* Do you know what today Sunday is? It's their anniversary...
That's right, it's been almost a full year since Meghan Markle became the Duchess of Sussex—and what a year it's been! For a highlights reel: let's start with a celebrity-studded and surprisingly black royal wedding; rumored family feuds (mostly sparked by Meghan's estranged family); a cookbook release; a highly-anticipated pregnancy announcement; a multi-country tour; a surprise appearance at the British Fashion Awards; an epic New York City baby shower; protective new social media guidelines from Buckingham Palace; the launch of the Sussex Royal Instagram.
And, of course, the birth of the Sussexes' first child and seventh in line to the British throne, Archie Harrison Mountbatten-Windsor, last week.
To commemorate a truly eventful first year of marriage for the royal couple—capped by new parenthood to the first British-American, biracial baby born into the British royal family—Gayle King is sitting down with some of Meghan's closest friends for "Meghan and Harry Plus One," tonight, Friday, May 17, at 8PM ET/ 7PM CT on CBS, who provided us with a few teasers. (Fun fact: Yours truly was also interviewed on camera for this special.)

G/O Media may get a commission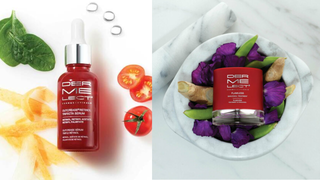 Save $19
Retinol Renewal Kit
"This is hugely significant," Markle's friend and guest at the royal wedding, actor Janina Gavankar tells King. "There are still a lot of us who didn't even grow up with dolls that look like us."

"I was one of those little girls," answers King.
"So, to have the royal family bring a child of color into the world, it's pretty awesome," Gavankar says.
"I feel like this is their time to really share who they are and what they stand for together," says Markle's longtime friend and makeup artist, Daniel Martin of the royal couple, becoming emotional as he attempts to set the record straight on the duchess.

"I know she doesn't deserve all of this negative press," he says.
"What's so frustrating is that you hear these stories and there's no truth to them," Martin, who created Markle's wedding day look, says of the numerous inflammatory reports of her being "difficult" or "demanding."
"It's not the same person. In the years I've known her, the years I've worked with her, she's never had a diva fit, never."

"She doesn't read the bad or the good, because she knows the metrics that you have for your own life cannot be based on a headline that somebody else wrote," says Gavankar.
Now, those metrics are presumably based on parenting Archie, a dream Gavankar says has been long held by Meghan, who, along with her royal husband (whom Gavankar calls "her soul mate"), has been credited with modernizing the royal family.

"Meghan and I have talked about her being a mother for over a decade," says Gavankar. "She's always wanted to be a mom."
"Their child is going to represent what the world is now," says Martin. "It's the dawn of a new generation."