To know someone (in this case for nearly 20 years) can sometimes mean to not really know the person at all. I knew that Caroline Clarke was a foot soldier in the Black Enterprise clan. Married to Earl Graves' middle son, Johnny, Caroline fit cozily into this black dynasty—not as a lady who lunches, though.
As a highly trained journalist, Caroline began working for the titan of black business not long after graduating from Columbia University's Graduate School of Journalism. Over the years she has had many editorial roles, now as executive editor and host of the brand's Black Enterprise Business Report television show and shepherd of the Black Enterprise Women of Power Summit. But as a fierce advocate and defender of her family, Caroline never let on to any but the closest of her friends about her most intimate family secret.
For starters, Caroline is adopted, and she discovered 12 years ago that her birth mother was Nat King Cole's daughter. She tells the story of their relationship in her new book, Postcards From Cookie: A Memoir of Motherhood, Miracles and a Whole Lot of Mail. The story began to unfold when Caroline was a young mother. She had joint pain and wanted to find out its source.
As a very secure, supremely loved child, she explains that being adopted "was really only top of mind when I was sitting in a doctor's office and the doctor was saying, 'Give me your medical history.' It's frustrating and it's annoying to really not have that answer. On a fundamental level, particularly when we know so much of our health is genetically predetermined, to really just have a big black hole around that is not just difficult on some level, it's detrimental."
So Caroline, who has known that she was adopted since age 8, asked her mother, Vera, for her blessing to go to Spence-Chapin Adoption Services, the prestigious agency where her parents had gotten her, to see if she could learn anything about the health history of her birth parents.
G/O Media may get a commission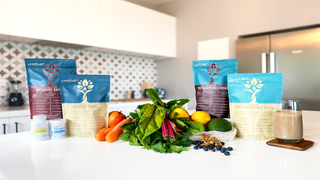 Caroline admits, "There are a lot of people who will say that a child who goes looking for medical information is subliminally looking for more." Knowing this, she adds, "I can't tell you what I was subliminally doing. I really had a medical issue and I had young children, and I was growing concerned not just about what was happening with me but what I could potentially be passing on to my children."
Whatever her motivation, Caroline says she didn't expect much from the visit, because back when she was adopted, in 1965, adoptions were usually secret transactions laced with shame, and the records typically were held under lock and key.
Though Caroline was not able to learn the source of the joint pain that brought her to Spence-Chapin, what she did learn was the stuff of fairytales.
As she sat across from the representative of the agency, she listened to the woman matter-of-factly recite from a seven-page single-spaced document that suggested she was the child of a well-known black family of unparalleled privilege for that time in American history. Naturally, the 37-year-old professional didn't believe a word of it at first. But the sleuth in her quickly figured out that if the tale she had just heard was true, then she knew who her family was.
In her memoir, Caroline recounts in vivid detail how she connected with and came to know her birth mother, Carol "Cookie" Cole, the eldest of Nat King Cole's four children, and ultimately develop an almost magical relationship with her. (She never knew her grandfather, the legendary singer, who died a few months after she was born.) Though, for many, discovering that you are kin essentially to black royalty would send you over the moon, the celebrity of her background was of little interest to Caroline. Meeting her birth mother, however, brought a depth of recognition and connection that proved to be even more profound than her childhood dreams.
Living 3,000 miles from each other, with neither of them fond of flying, these two women, 20 years apart in age, swapped countless postcards, letters, photos, gifts and stories that now live in their own file cabinet in Caroline's home office. Their get-to-know-each-other love affair is one that rarely happens with such ease. (Caroline is careful to point out that many such meetings with birth parents turn sour fast.)
Within the pages of this beautifully told story, Caroline grapples with all manner of issues of identity, from discovering her birth mother and learning that she really did love her and never wanted to give her away to learning that her father is Jewish—another story that completely rocked the world of someone who had been assured that she was 100 percent black.
Caroline says she understands why her parents lied to her about this part of her story. "At the time I was adopted, biracial children fell into something of a difficult-to-adopt category," she says. "Typically, back then, of course, they would be placed in black homes because there was no 'biracial' back then. It was the old rules that if you're half of black, you're black. My parents, I think, were counseled not to divulge the truth, and they didn't. I was raised black in a black family, very happily, proudly, adamantly black. And finding out that my birth father was white was jolting."
As for her birth father, Caroline has not tried to find him. "I knew that a woman carried me for nine months and gave birth smack in the middle of Christmas Day. No woman is going to forget that. So I knew in calling her, although it was going to be a shock, it wasn't going to literally be out of the blue. In my birth father's case, it's very different. He never knew she was pregnant."
To the question of why a very private person would share so fully about her own adoption story, Caroline says, "I just want to say to people, we all have shadowy parts of our lives where people tell us 'Leave it be.' You don't want to look there, you don't want to go there, you don't need to know.  And I think it's worth uncovering who you are. It's not to say that everything you find out is going to be perfect and it's all going to go beautifully, but it's going to make you more whole, and it's going to help you heal in ways that you may not even have known you needed healing.
"I didn't think I had this deep need to know, but in knowing, I realized it was more the need that I was never willing to acknowledge," she continues. "And for Cookie, my showing up proved an incredibly healing thing because here's this woman who'd been forced to give up a child, who suffered tremendous trauma around that moment because her father died right afterward. She hadn't been able to see him, be with him for months before that, because she was sequestered in a home across the country as a single pregnant woman, and it changed the course of her life in countless ways.
"My coming back to her was something she had longed for and prayed for, and it was a gift," Caroline adds. "I mean, it was a gift to her. It was a gift to me, and I hope the story will be a gift to a lot of other people for a lot of different reasons." 
Harriette Cole is the author of the book of meditations 108 Stitches: Words We Live By and a contributing editor at The Root. Follow her on Twitter.
Harriette Cole is the author of the book of meditations 108 Stitches: Words We Live By and a contributing editor at The Root. Follow her on Twitter.