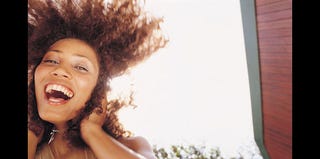 Sometimes self-love is tough, especially when you think you might not be the right size or have the right amount of zeros in your bank account. But Jamilah Lemieux writes at Clutch magazine that happiness and security are about loving yourself, all by yourself.
You have the sister who shops herself broke trying to keep up with the proverbial "Joneses," or the one who will lay up with a man who could care less about her, yet makes her feel more whole with his presence. The brother who will walk the walk, talk the talk of others so that he may be "acceptable" by someone else's standards and the one who will hide his good sense and mimic the anti-social behavior of others, just to fit in.

You can't buy, sleep with or finesse your way into validation. You aren't fly because you can afford a Louis bag and you aren't sexy because a certain gent likes the way you look without your shirt. You have to trust and believe in your own greatness. Going out of your way to try to make someone else tell you "you're worthy" is a good way to get the right message for the wrong reasons.

Many of us find ourselves searching for love in between the sheets, or acceptance from what someone thinks of us, as opposed to feeling special about who we are because of who we are. 
Read Jamilah Lemieux's entire piece at Clutch magazine.
The Root aims to foster and advance conversations about issues relevant to the black Diaspora by presenting a variety of opinions from all perspectives, whether or not those opinions are shared by our editorial staff.