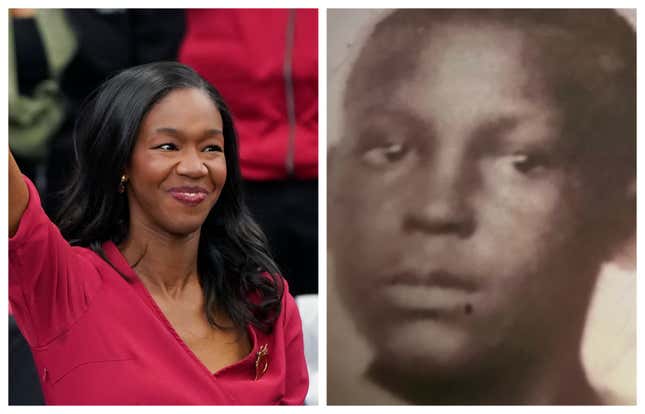 The great-granddaughter of a lynching victim from 89 years ago has made history being sworn in as the first Black woman to serve on the Michigan Supreme Court, according to CNN. Kyra Harris Bolden rose from being a member of the state House to serving in a critical decision-making role ensuring justice for those denied it, like her great-grandfather.

Oprah And Michelle Obama in The Light We Carry Is Our TV Pick This Week
In 1939, 20-year-old Jesse Lee Bond was at the SY Wilson store in Arlington, Tennessee. Reports say Bond, like many sharecroppers, went to the store to buy crops. When Bond paid for his goods, he asked for a receipt, which was frowned upon because it was assumed Black people would try to cheat the white store owners.
"- old man Wilson got angry and said get that person and bring them back into me... When [Bond] came back, they began to shoot him and riddled him to the outhouse. They took him, dragged him, castrated him, and stuck him out in the Hatchie river," said Ronald Morris, Bond's nephew via ABC 24 News.
In an interview with Michigan Radio, Bolden said the coroner ruled her great-grandfather's brutal murder as a mere drowning accident. The murderers, Charles Wilson and William Johnson, walked free. This tragedy inspired Bolden to pursue a law degree. Now she's determined justice be served for the rest of her family tree.
More from Bolden on Michigan Radio:
And it wasn't that long ago when government sanctioned injustice was the norm. I like to say that I will be a justice for generations just [because of] my family history of injustice. That's why it's so important for me to protect justice for the future of my child and for all the children of Michigan because the decisions that the Michigan Supreme Court makes, and will make in the future, will absolutely determine the type of Michigan that our children and our children's children live in.

It's really important for the highest court in the state of Michigan to reflect the diversity of the state of Michigan, a diversity of backgrounds, perspectives. I didn't realize, to be quite honest, how important it was until I started running. And I have been in situations where honestly, I've almost cried because people have told me how much the representation means to them, not even just obtaining the position, but me running in the first place. But I also want my daughter and other children in the state of Michigan to know what they can achieve because it's hard to be what you can't see.
Bolden isn't the only one putting in work to honor her great-grandfather's legacy.
The Lynching Sites Project of Memphis partnered with Bond's family to memorialize him and place a historical marker at the place where he died, per ABC. The organization also held a soil collection ceremony on those same grounds and the remnants will be on display at The Legacy Museum in Montgomery.
Bond's legacy is now beyond just another example of racism in the Jim Crow south. It is proof that our past does not have to dictate our future.