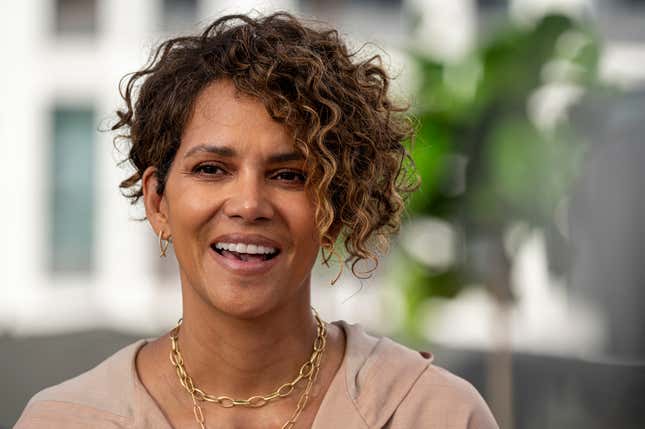 Oscar-winning actress Halle Berry has had plenty of success on the big screen. Unfortunately, she hasn't always had the same luck in love. But it looks like things are starting to go her way, as the actress appears to be the happiest she's ever been. Now, of course, all we have is her social media to go on. But judging from her most recent Instagram posts, Berry is basking in the glow of her latest love.

On August 7, she posted a funky selfie rocking an afro that she captioned, "Sunday serve…my man loves this. Forward all complaints to him @vanhunt"
She posted a touching Father's Day tribute to him, writing, "The smiles on their faces tell their story! Their magic is palpable, it's playful and strong and full of joy! Van is not anchor nor sail, but he's a guiding light whose love gently guides the way…for All of us! Happy Father's day to all the dads in my life and all of yours!"
But the post we love the most was her June 4 mirror selfie she captioned, "Finally, I love wholeheartedly, without judgement who I see in the mirror…do you?
Berry's Bad Relationship Timeline
It's no secret that Halle Berry has had a string of bad relationships. The X-Men actress filed a restraining order against former MLB star David Justice when their marriage ended in 1997. She divorced singer Eric Benet in 2005 while rumors swirled that he had been repeatedly unfaithful. Who could forget the nasty custody battle with Canadian model Gabriel Aubry, the father of 15-year-old daughter Nahla. Her most recent high-profile split was with Olivier Martinez, with whom she shares 9-year-old son, Maceo. Their two-year marriage ended in divorce in 2015. And we haven't even talked about her relationship with Wesley Snipes. Needless to say, your girl could use some good luck in the love department. Enter, R&B singer Van Hunt.
A Good Old-Fashioned Courtship
Berry met Hunt, who made a name for himself with his 2004 self-titled debut album, in 2020. The two had a lot of time to get to know one another as they spent four months talking on the phone while most of the world was in quarantine. The actress opened up about her old-school courtship with Hunt in a 2022 interview with AARP: The Magazine.
"We were forced to let only our brains connect and discover if we had a connection before our bodies decided to get involved," she said. "I'd never done it this way. I fell in love with his mind, his conversation."
While rumors swirled about her connection with Hunt, Berry went IG official with their relationship in September 2020, when she posted a photo of herself wearing one of his tour t-shirts in a post she captioned, "now ya know... "
"When you're loved and supported as a woman, everything changes," she told Extra in a November 2021 interview. "The day looks brighter, everything looks better. Your opportunity seems limitless."
So far, things are looking good for Berry and her new boo. Let's hope it lasts.