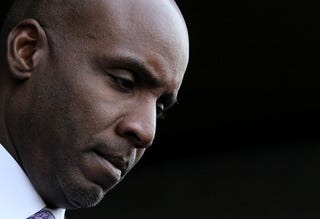 Barry Bonds' losing streak continues.  
A San Francisco-based federal judge on Friday rejected his effort to dismiss his criminal conviction for obstruction of justice, according to CNN.
Judge Susan Illston issued the decision in a 20-page order that also denies a new trial for the former baseball star who holds the all-time home run record.
A jury convicted Bonds in April of a single count of obstructing a 2003 grand jury's probe into illegal use of performance-enhancing substances in sports. The jury could not agree on three other charges, including perjury. Bonds, voted Most Valuable Player seven times, has denied the charges.
It's too bad Bonds has become a symbol of disgrace when he was once a symbol of pride. But his hardships give rise to a perennial question: Do athletes force themselves to meet unrealistic expectations in the name of the game?  
Read more at CNN.
In other news: Minority Babies Almost the Majority.