Yeah, we know—usually when we're discussing anything Kardashian-Jenner related, we're giving it an "A" for "appropriation," but a heartwarming little item crossed our desks today, and it only felt fair to give a rare nod of approval.

Little Stormi Webster is just over a year old, but 21-year-old mom Kylie Jenner is making sure her daughter is getting some "mommy-and-me" time through the time-honored tradition of hairstyling—well, with what little hair Stormi has, at this point.
As Page Six reported on Monday, Jenner posted an Instagram Story of herself doing her daughter's hair, brushing it into a tiny ponytail and dutifully taming her edges with gel and a small brush. The young mom captioned the clip, "I love doing her hair. I'm not the best, but I love learning. Some of my favorite memories are of my mom doing my hair. Can't wait till her hair is long enough to all fit in the pony. Gotta make it work for now."
We hope Jenner is preparing herself for the inevitability of shrinkage on that length—and we're not necessarily lauding her for doing something mothers have been doing for, well, ever. But as a white mother of a biracial child, it's good to see her unintimidated by her daughter's still-evolving hair texture. As Page Six noted, memorably, big sister Kim Kardashian was initially not as confident when styling eldest daughter North's hair. In fact, her frustration, which she expressed to good friend Larsa Pippen, was captured by the Keeping Up with the Kardashians cameras in 2016, and recapped for The Cut by writer Mariah Smith:
Poor Kim says she can only put her daughter's hair in a bun or ponytail when North really wants Elsa braids or more elaborate styles. Kim insists it's just because North's hair is "curly" that she's having trouble (it's absolutely, definitely not and don't you dare ever say it's because North has black hair, it's just curly).
G/O Media may get a commission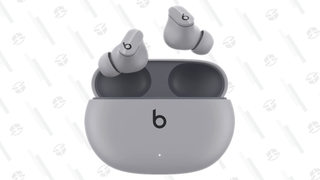 *chuckle break*
Kim ultimately wisely enlisted the help of celebrity stylist Kim Kimble to help her create some of the braided looks North wanted, and since Stormi barely has a ponytail, we're nowhere near that point. But for a family who could easily afford their own in-house braider (I mean, mom is a "self-made" billionaire, right?), it's cool to see that when it comes to doing their daughters' hair, these celebs are just like us—if at least for the 'gram. (We kid, we kid ... kinda.)
That said, no word on when we'll see a "daddy 'do" on adorable little Stormi, courtesy of Travis Scott.