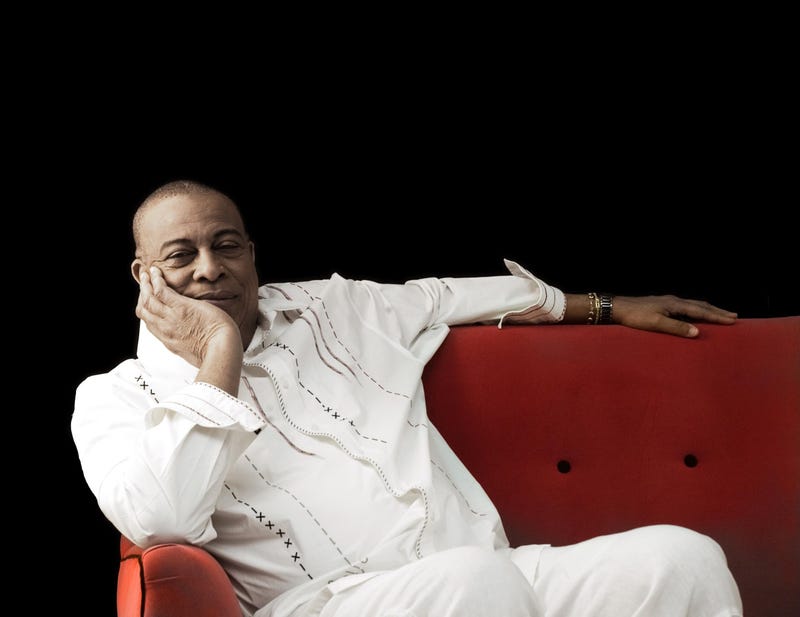 Chucho Valdés is one of the big men in jazz, and the adjective applies both to his physical stature and to his art. The Cuban pianist and composer casts a large shadow that has covered Latin music, Latin jazz and straight-ahead jazz. His technique has always had a titanic dimension, and sometimes the issue is how to contain it all within a single performance or CD.
On his latest release, Chucho's Steps, the pianist offers an intriguing panorama of his talent and his taste. He pays tribute to Joe Zawinul, the pianist for the fusion-jazz pioneer band Weather Report, quoting from one of that group's most famous tunes in "Zawinul's Mambo." This is a reminder that Valdés came to the attention of American listeners as the pianist for Irakere, the Cuban fusion-rock band that stunned U.S. listeners who thought that somehow the American blockade of trade with Cuba also blocked the airwaves. Yet Irakere (and Valdés) showed that Cuba's musicians were solidly on the front edge of the music's evolution.
Then there is "Danzón," which shifts easily between a sultry jazz ballad and the elegant danzón style of the title. Here Valdés shows his versatility, punctuating the jazz segments with pungent jazz chords and then sliding easily into the delicate, pearly flurry of notes of the traditional Cuban style that his father, Bebo Valdés, famously perfected. Shows the kid was listening to Dad after all.
The musicians on this set are not at all overshadowed by Valdés. On Chuco's "Both Sides," trumpeter Reinaldo Melián Alvarez displays a sparse solo style that bristles with ideas and avoids most of the usual clichés that pollute jazz solos. His range is broad and effortless — and again unveils a musician who is well tuned in to the evolution of the jazz mainstream. He delivers a full, warm sound on "Begin to Be Good," a tune that combines elements of "Begin the Beguine" and "Lady Be Good."
Tenor saxophonist Carlos Miyares Hernández also catches the ear; he delivers consistently fine solos, first on "Danzón" and then on "Chucho's Steps," a tribute to John Coltrane's jigsaw puzzle of a tune, "Giant Steps." Hernández displays mastery of a sizable vocabulary: fast runs; a throaty tone on slower songs; and a driving voice in the fast, loose sections where the band focuses on rhythmical extrapolation.
And of course there's Chucho, at ease in jazz and in Latin as well, tossing off long chromatic runs, pounding out chordal passages, easing off the gas pedal into a light touch and then easily switching to a repetitive Latin arpeggio to restore the groove. Not that it is ever lost by the very solid rhythm section that includes bassist Lázaro Rivero Alarcón, Juan Carlos Rojas Castro on drums and Yaroldy Abreu Robles on percussion. They easily handle the stop-start rhythms of "Both Sides" and are rock-steady when ensconced in the steady driving beat of more traditional jazz.
Chucho's composing talent shines throughout this collection but is especially bright on a couple of tunes, including "New Orleans," a tribute to the Marsalis family, which edges into a "traditional" improvisation; and "Yansá," which recalls the edgy harmonies of some 1970s jazz and then brings in some traditional Yoruba Orisha chants.
Chucho's Steps is a good introduction to Valdés if you are not familiar with him. For those who already admire his considerable talent, it is an impressive addition to a growing catalog of works by an omnivorous musician.
Valdés is completing a tour of the U.S.:
Oct. 24: Burlington, Vt., Flynn Theatre
Oct. 26: Hanover, N.H., Spaulding Auditorium at Hopkins Center, Dartmouth College
Oct. 28: Boston, Berklee Performance Center
Oct. 30: Washington, D.C., the Warner Center
Nov. 1: New York City, the Village Vanguard
Joel Dreyfuss, The Root's managing editor, has been known to occasionally join jam sessions at New York jazz clubs.